Page reviewed by: Dr. Cara O'Neill, FAAP
Page last updated: March 14, 2023
For web accessibility options: Click/tap the floating blue icon on the right.
Leaders of Cure Sanfilippo Foundation were once again busy during WORLDSymposium 2023. The six-day international conference draws roughly 3,000 researchers, clinicians, industry partners, and patients and patient advocates from around the world and was filled with sessions presenting the latest basic, translational and clinical research discoveries related to lysosomal diseases (of which Sanfilippo Syndrome is). 
Why does the Foundation go to the WORLDSymposium? One of the most important roles of participating in the WORLDSymposium conference this year is educating and connecting more clinicians with the now-available Global Consensus Clinical Care Guidelines.
In the exhibit hall, the Foundation team is passing out copies to clinicians from around the world who are treating patients with Sanfilippo. Foundation Chief Science Officer Cara O'Neill, MD, FAAP, is also spreading the word through her platform presentation before the conference audience (and online) of thousands and a poster presentation. In both instances, she was presenting on development of consensus guidelines for the clinical care of individuals with Sanfilippo Syndrome, which were published in late 2022. 
Joining O'Neill in representing the Foundation were Katie Walton, VP of Marketing; Elise Drake, Research Projects Coordinator and mother of Keira; Jessica Haywood, data sharing committee member and aunt of Sadie Rae; and Tyler Stoop, father of Olivia.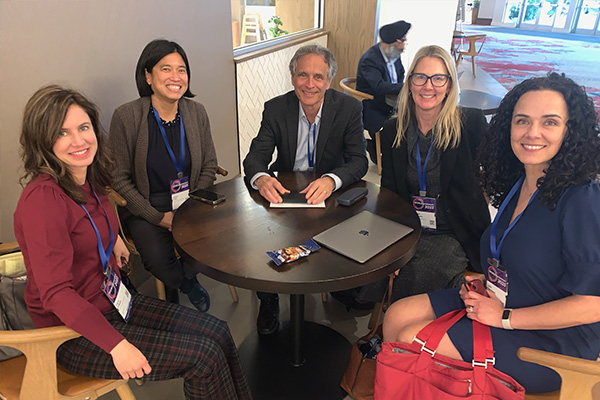 WORLDSymposium 2023 had many scientific presentations about Sanfilippo, some of which Cure Sanfilippo Foundation has funded. Just some of the sessions have included:
Signature biomarkers for the diagnosis and screening of MPS;
Severe neuronal demyelination in Sanfilippo disease;
Bone pathology in Sanfilippo Type B mice;
Ongoing research regarding creation of an iPSC-based neural gene therapy approach for Sanfilippo Type A;
Encouraging results of University of Manchester's ex-vivo autologous stem cell gene therapy clinical trial in children under 24 months;
Exploration of whether children with Sanfilippo develop autoimmune disease and early positive results of translational results to develop a novel adeno-associated viral gene therapy for Sanfilippo Type B; and
Utilizing a precision medicine tool to improve quality of individual treatment trials with immunomodulatory drugs in mucopolysaccharidosis
Using a decision analysis framework, researchers propose that Anakinra is a first line choice to address inflammation in patients with neurologic MPS disease, including Sanfilippo syndrome. Additional support for the use of Anakinra reinforced the utility of the clinical trial being conducted at The Lundquist Institute and funded by Cure Sanfilippo Foundation.
Cara O'Neill with Mark Dant, Chair of EveryLife Foundation for Rare Diseases and father of Ryan who is living with MPS II.
Cara O'Neill conversing with Michelle Wood (Physiotherapist at Great Ormond Street Trust in the UK and Guideline Development Group Contributor to the Sanfilippo Clinical Guidelines) during her poster presentation regarding the first-ever global clinical care guidelines for Sanfilippo.
Cara O'Neill with Greenwood Genetic Center's Dr. Francyne Kubaski and UNC, Chapel Hill, clinician scientist Dr. Joseph Muenzer.
Prior to WORLD beginning, Cure Sanfilippo Foundation held a meeting bringing together a passionate group of doctors, advocates and biotech leaders to discuss how to leverage existing data to advance the development of treatments for Sanfilippo Syndrome. The power of being in the room together brought about incredibly rich conversation and opened up doors to future collaboration.
Above: The group of passionate researchers, clinicians, advocates and biotech leaders who participated in the Foundation-led "Leveraging Data to Advance Therapeutic Development in Sanfilippo syndrome" meeting to discuss how to leverage existing data to advance the development of treatments for Sanfilippo Syndrome.