Signs of Sanfilippo can be present in the newborn period, but often go unnoticed without newborn screening.
Most symptoms begin to be recognized between 1 and 6 years of age when the child begins showing signs of developmental delay.
Transient Tachypnea Of Newborn*
Coarse Facial Features*
(frontal bossing/prominent forehead, full lips, and nose)
Prominent, thick eyebrows*
Persistent Hirsutism*
Macrocephaly*
Speech & Developmental Delays+
Hearing Loss+
(typically high-frequency, sensorineural hearing loss)
Recurrent Ear/Sinus Infections
Chronic Upper Respiratory Congestion
Challenging Behaviors
(hyperactivity, impulsivity, poor sense of safety, difficulty cooperating)
Features of Autism
(speech regression, mouthing/oral fixation, loss of interest in social interactions, repetitive speech/behaviors)
Sleep Disturbances
(difficulty going to sleep; frequent nighttime waking, often with disruptive behaviors; difficulty getting back to sleep)
Diarrhea/Chronic Loose Stools
Umbilical/Inguinal Hernia
Enlarged Liver/Spleen
Continued Coarsening of Facial Features
Development of features of Autism
Progressive Intellectual Disability
Brain Atrophy (
shrinking of brain tissue from loss of nerve cells)
Seizures/Movement Disorders
Behavioral problems
Hyperactivity
Impulsivity
Loss of Ambulation
Loss of Oral Feeding
(chewing and swallowing problems)
Enlarged Liver/Spleen
Hearing Loss
(typically high-frequency, sensorineural hearing loss)
Early Death
Progression of Coarse Facial Features in Sanfilippo
These images compare the progression of coarse facial features of children with Sanfilippo syndrome, compared to their unaffected siblings. These images are from Escolar C, et. al, 2020, Development of a Clinical Algorithm for the Early Diagnosis of Mucopolysaccharidosis III. Journal of Inborn Errors of Metabolism & Screening. 2020, Volume 8: e20200002..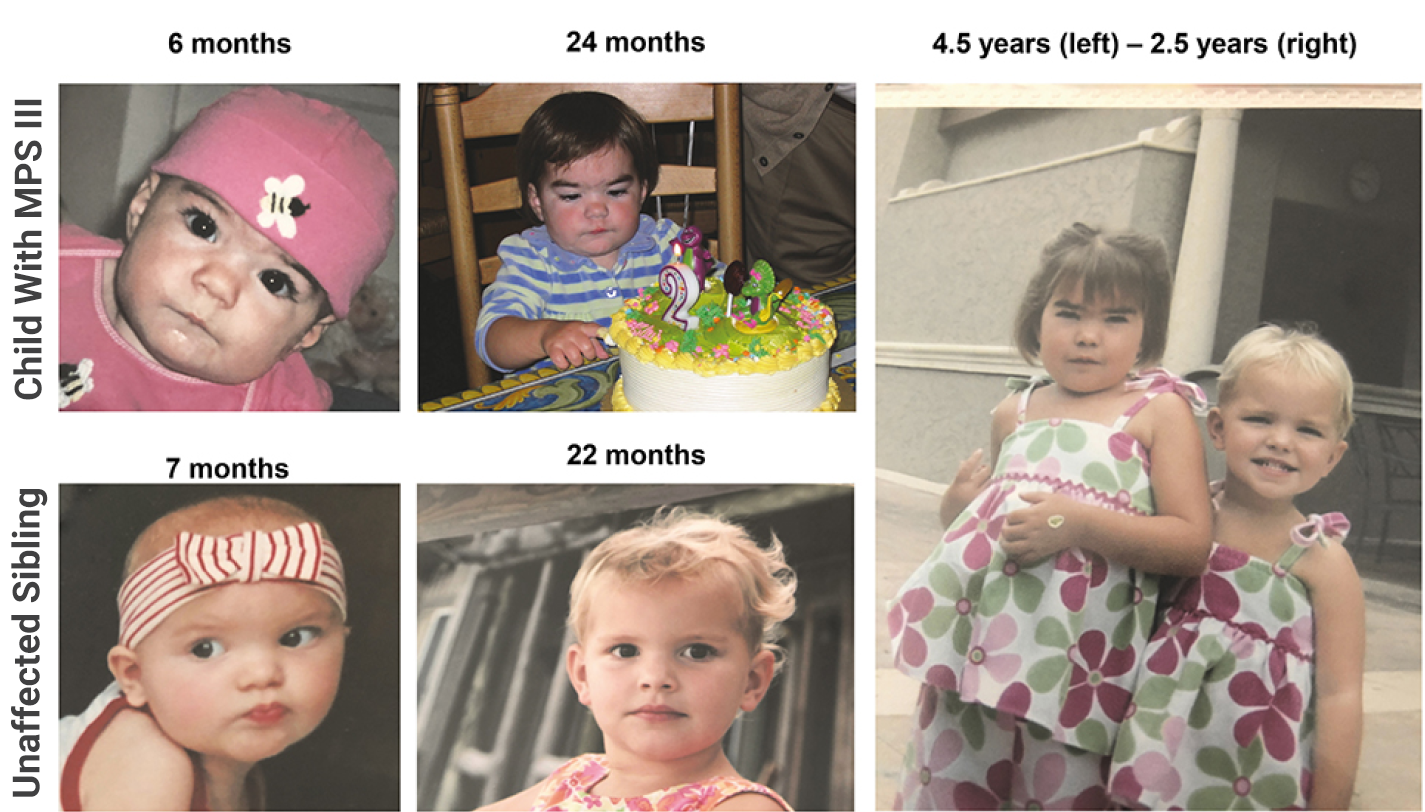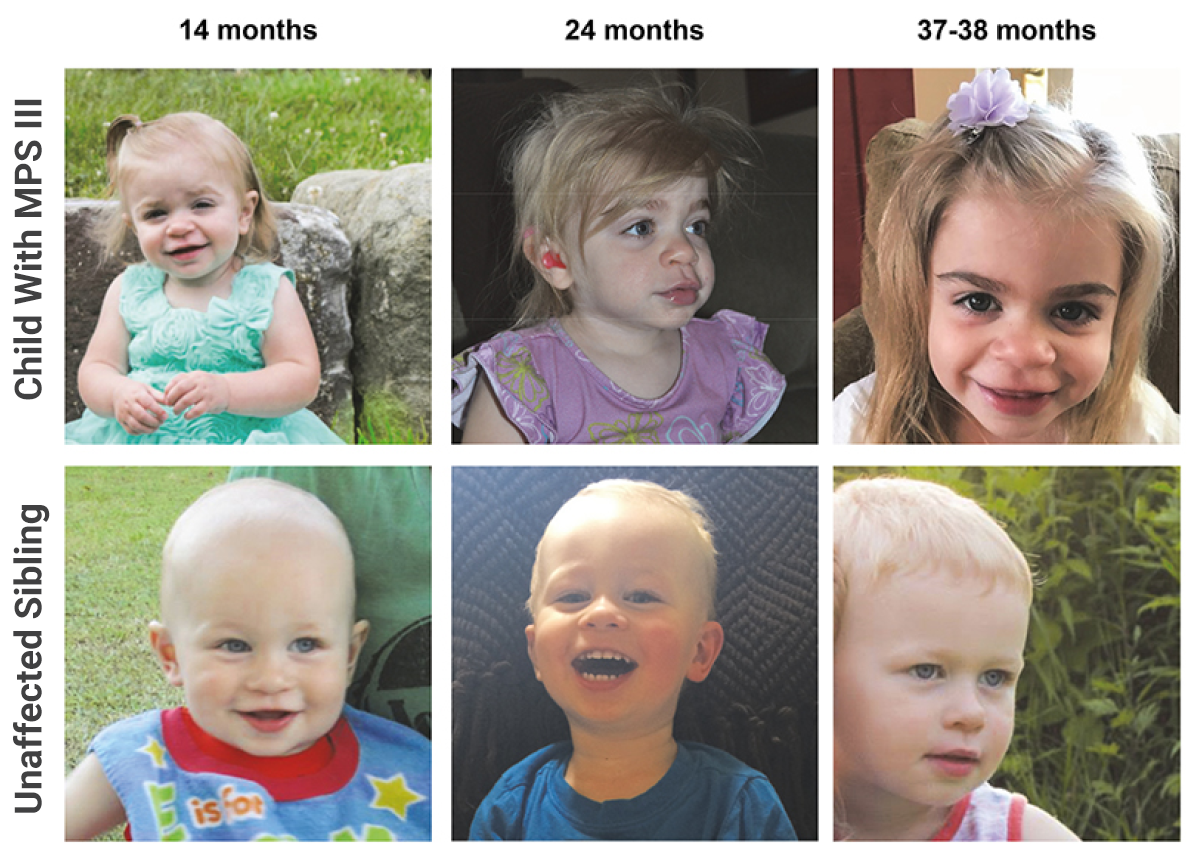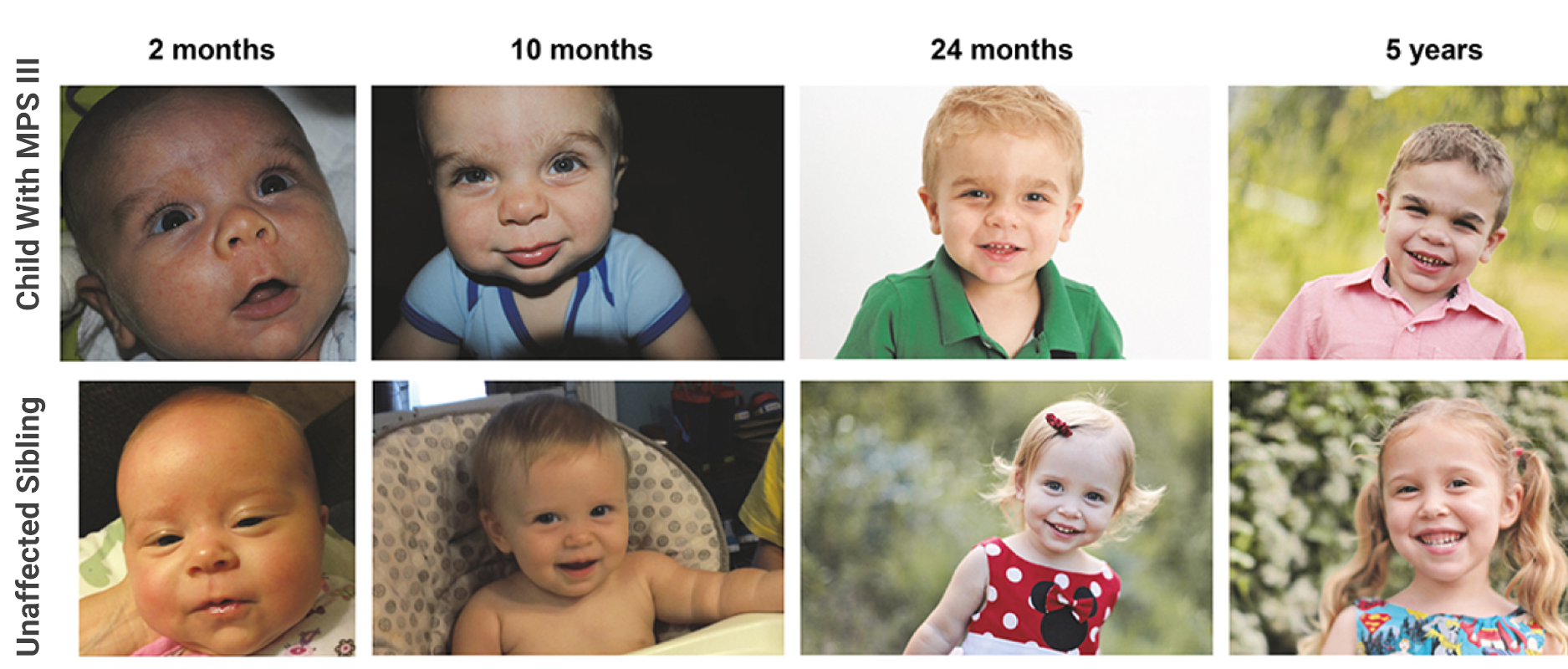 Average Age at Diagnosis of Patients With Sanfilippo
| Sanfilippo Type | No. of Diagnoses+ | Median Age (Range)++ |
| --- | --- | --- |
| Type A | 31 | 3.5 (0.2-17.1) |
| Type B | 17 | 3.5 (0.0-21.4) |
| Type C | 3 | 10.7 (5.7-12.0) |
| Type D | 4 | 3.1 (0.4-7.4) |
+ Data are number of postnatal diagnoses made in each group for which age data were available. ++ In some instances, early diagnosis was facilitated by an older affected sibling as an index case. Age at diagnosis of 0.0 refers to individuals diagnosed in the first 2 weeks after birth
Source: Meikle PJ, Hopwood JJ, Clague AE, Carey WF (January 1999). "Prevalence of lysosomal storage disorders". JAMA. 281 (3): 249–54. doi:10.1001/jama.281.3.249. PMID 9918480. https://pubmed.ncbi.nlm.nih.gov/9918480/