Options for testing for Sanfilippo Syndrome
Page reviewed by: Dr. Cara O'Neill, FAAP
Page last updated: October 13, 2022
For web accessibility options: Click/tap the floating blue icon on the right.
Early testing for Sanfilippo syndrome is crucial. Delays in diagnosis could impact access to clinical trials and/or services to support a child with Sanfilippo syndrome.
The American Academy of Pediatrics suggests considering evaluation of inborn errors of metabolism (including MPS disorders) in children with neuromotor and global developmental delays.
The American College of Medical Genetics and Genomics strongly recommends exome and genome sequencing as a first or second-tier test for children with congenital anomalies that onset by age 1, as well as those with developmental delay or intellectual disability that occurs by age 18.
If you or your physician have questions about symptoms of Sanfilippo Syndrome and testing options, contact us at Contact@CureSanfilippoFoundation.org.
Initial Testing Options for Sanfilippo Syndrome
Urine MPS Screening Test
Traditionally, the initial test used to screen for Sanfilippo syndrome is the Urine MPS Screening (glycosaminoglycans) Analysis, which detects if an abnormal amount of heparan sulfate is present in a child's urine. (Of Note: This test is not part of a typical urinalysis used for determining infection.) Your physician may order a "Urine MPS Analysis" if there are concerns about Sanfilippo syndrome.
This test requires that a urine specimen be collected at home or at the medical office. It does not have to be a sterile collection. A first-of-the-morning urine sample is ideal, but not required. If the minimum of 3 mLs of urine is not collected at one time, you may combine more than one urine sample from the same day. If collected at home, the sample should be labeled, refrigerated, and taken directly to the physician or laboratory as directed.
While urine testing is still an important part of the diagnostic process, false negatives can occur. New screening methods are becoming more common as first-line tests (see below for details).
Many labs offer this test, the following is an example of one.
Genetic Panel Test
Genes for Sanfilippo may be tested by sampling blood, a cheek swab, or a saliva collection.
Genetic testing and counseling for lysosomal storage diseases is available through Invitae's Detect Lysosomal Storage Diseases (LSDs) Program. It is available at no charge for patients in the U.S. and Canada who are suspected of having an LSD based on clinical features, suspicion of a specific lysosomal storage disease, family history related to LSDs, or lab results suggestive of LSDs. It is available outside of the U.S. and Canada, but may include a cost. Learn more about the program.
Results take an average of 10 to 21 days after Invitae receives the specimen. The preferred specimen is 3mL of whole blood.
Flyer to take to your doctor. Download informational flier to share with your doctor.
Other Genetic Testing Resources
Project Find Out is a research study designed to facilitate early and accurate genetic diagnosis of rare genetic neurodevelopmental disorders​. This study will begin enrolling infants age 3 to 12 months. Overtime may open to enrolling older children. Check back regularly, if you are interested, but your child does not currently meet the eligibility criteria. This study provides no-cost, whole genome sequencing for eligible participants.
A doctor's referral is not required to enroll in this study. Families can enroll their child in the study via Project Find Out's website.
Additionally, there are a number of other companies that offer genetic testing.
Follow-Up Testing to Confirm Sanfilippo
Enzyme Activity Test
If suspicion remains after a negative urine test or of the Urine MPS Test or Gene Panel Test are positive, the diagnosis should be confirmed with a blood enzyme panel.
A blood enzyme assay is considered the most-credible diagnostic tool in testing for Sanfilippo Syndrome because it detects whether or not one of the enzymes in the cellular pathway that breaks down heparan sulfate is missing (the functional cause of Sanfilippo Syndrome), providing a definitive answer.
This test requires a blood draw. Usually from the arm.
Note: This blood enzyme test is ideal for younger patients with whom collecting a viable urine sample for the Urine MPS Screening is difficult or impossible.
Additional Options
Sanfilippo Syndrome is currently not included on any state's newborn screening public health program. However, supplemental screening tools are available.
Pre-Screening App
Face2Gene is a suite of phenotyping applications that facilitate comprehensive and precise genetic evaluations.
The Face2Gene Clinic app detects phenotypes of more than 7,500 genetic disorders, including Sanfilippo Syndrome, from facial photos a practitioner uploads, automatically calculates anthropometric growth charts, and suggests likely phenotypic traits to assist in feature annotation.
A clinician can review relevant syndrome phenotypes matches to genetic disorders based on gestalt and refine relevance of genetic disorders based on deep phenotyping.
Review the phenotypic traits of Sanfilippo Syndrome.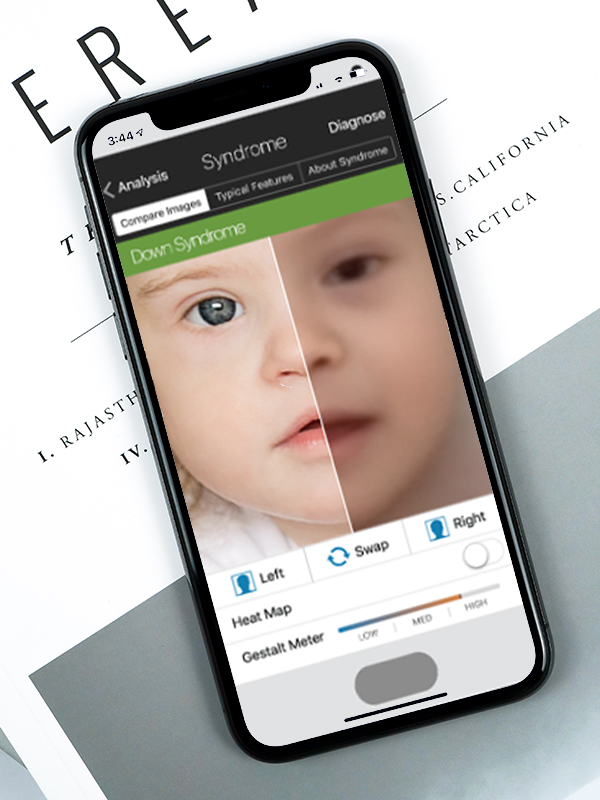 Carrier Testing
Finding out if family members carry Sanfilippo mutation
If someone in your family history has or has had Sanfilippo Syndrome, it is good idea to be proactive in understanding your risks and carrier status for the disease. Carrier testing for Sanfilippo can now be done quite easily.