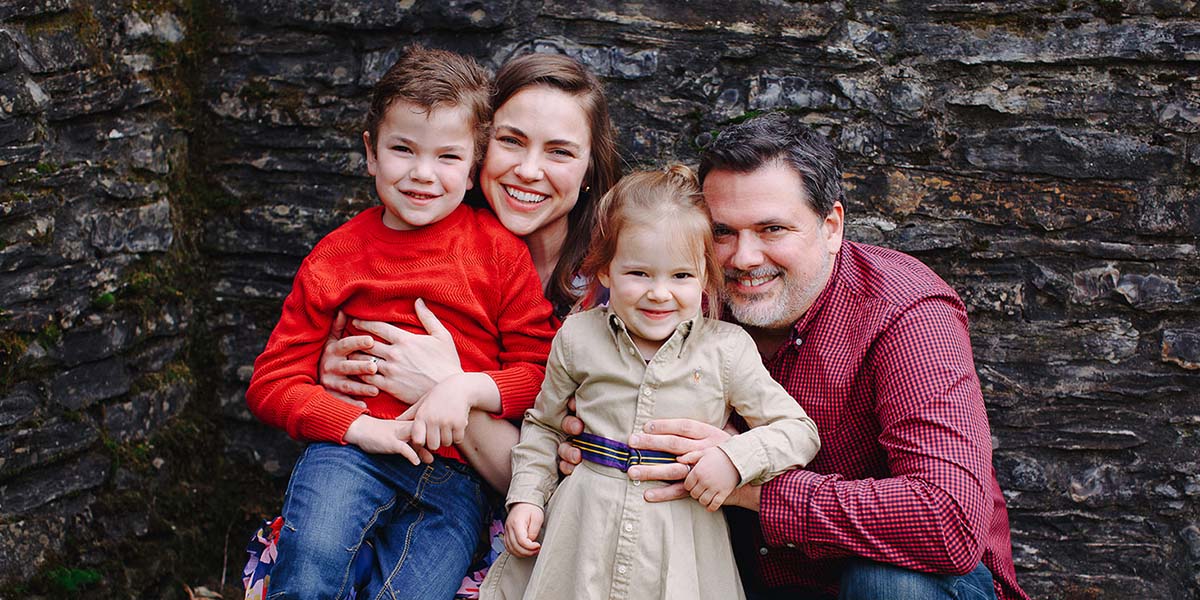 Hear directly from the Kelly family – Parents Brian and Jen, Oliver (age 8, Type A), and sister Reagan!
Awareness is a huge part of fighting Sanfilippo Syndrome. With awareness comes caring and understanding, which can lead to support and donations for research that can give children with Sanfilippo more good days.
"Family Friday" are a way families and the Foundation help spread awareness, by sharing a window into their family's life. A window that builds understanding and visibility of life with Sanfilippo, the difficult and the uplifting, and everything in between.
This week, we are honored to share the insights and personal perspective of Oliver's family. Oliver is 8 and was diagnosed in 2019.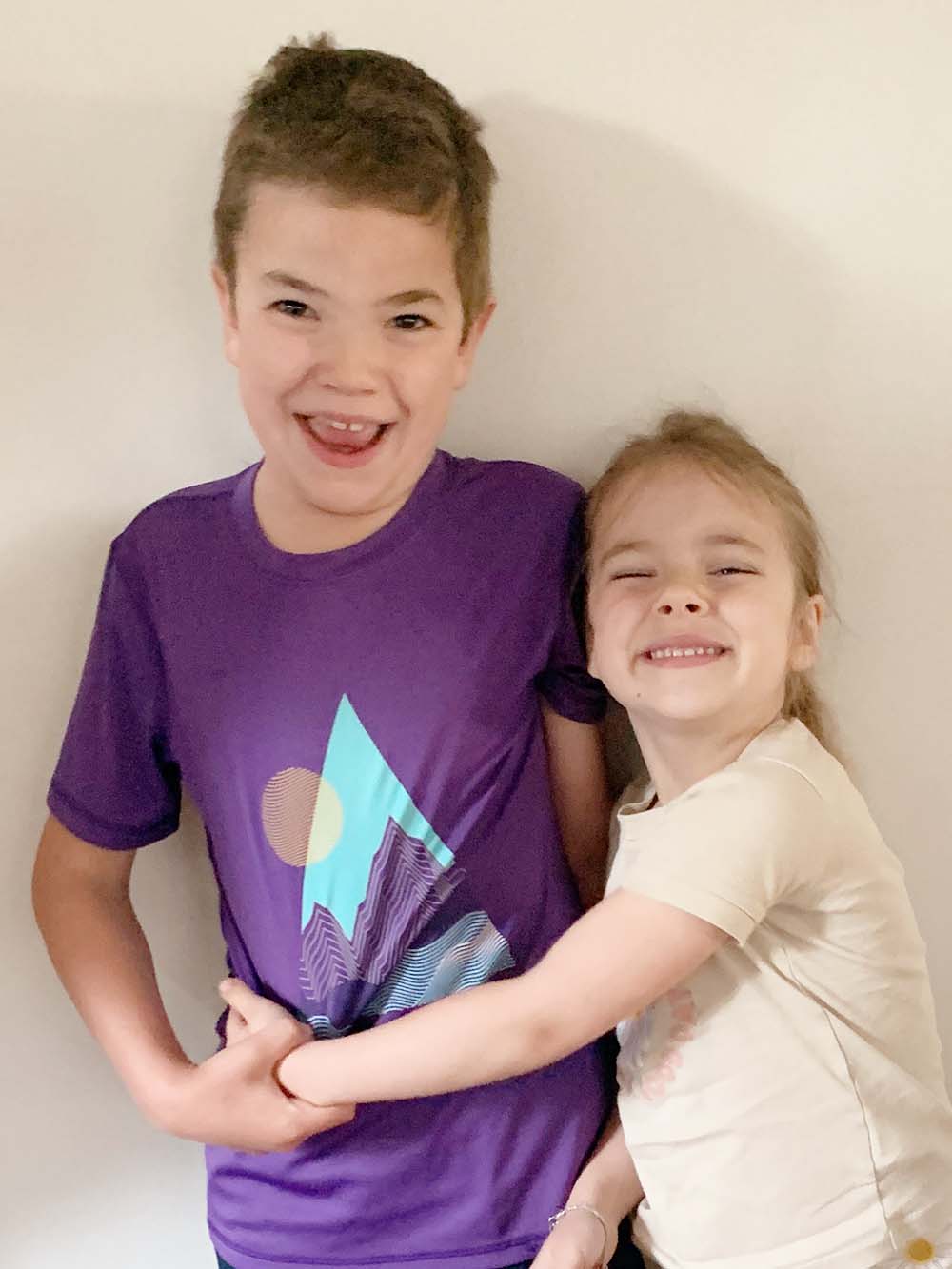 What is a "life with Sanfilippo" hack that you use all the time?
Oliver is obsessed with phones and, more importantly, the Netflix, Disney (etc.) apps that are on them. With a magician's sleight of hand, he can swipe them away from the counter, from your hand, from wherever. He will run off giggling and kind of plays a game of keep-away.
As such, we often hide our phones from him around the house (and miss a lot of real-time calls and texts in the process!). Therefore, when the phone does appear intentionally, it has a powerful effect. If we hand Oliver our phone, he will immediately calm down, focus all his attention on the buttons and the screens, and more or less become stationery.
While we wish there were other objects that have the same impact, our phones have become ways we can keep Oliver in one place in a generally tranquil manner. The intent is not so much to placate him as it is a method that allows our family to actually do more public activities outside the house in terms of time. To go out to eat, to go to a party, to go to a parade, to go to the zoo, etc., we often have to pull a phone out and let him concentrate on it (he knows where to find his shows). Otherwise, we may only last a couple minutes at any given venue/event because he often gets demonstrably upset, uncomfortable, and is a constant elopement risk.
The other hack that we have, personally, is Oliver's younger sister, Reagan. She has a tremendous calming influence on him. She playfully coos, she engages, she wrestles, she tickles him to divert his attention away from whatever is bothering him. She will often do this unprompted on her own. Yes, Reagan's unbridled emotion and love can quickly turn Oliver's frustration or discomfort around almost instantly.
What is your day-to-day life like and how does it differ from a family that doesn't have a child with Sanfilippo? How is it also the same?
Candidly, day-to-day life is very hard and taxing. It's not to say we do not laugh and play and have fun and celebrate sweet moments. But each day, we have to bring everything we got (Oliver needs it, Reagan deserves it), knowing we must somehow find the strength to do it again tomorrow and the next day. And the next.
Except when he is sleeping, Oliver needs constant monitoring—for his safety and the safety of others. He is generally destructive, puts anything in his mouth, is incredibly restless (he does not stay in one place for more than a minute or two), and often is trying to escape the backyard or put himself in some other dangerous situation.
In the blink of an eye, he could be running down the street if the gate isn't locked or have drawn himself a bath and is soaking wet in his clothes or has ripped off his pull-ups and there is well, you know, on the kitchen floor.
As parents, we have to constantly trade off. One of us is always with Oliver. There is no other choice. And when you are with Oliver, as you can imagine, you can do little else.
So, with both of us working, you have to kind of carve out your day, fight to create time to fulfill all of the other non-Oliver obligations. And that is a big thing, because we are constantly also making sure that Reagan is receiving our attention and developing and growing and having positive experiences.
There is never enough time; we never will achieve anything that will feel normal. You feel always behind, letting someone down, or letting something slip into the next day. This is exhausting, can feel very defeating and just when you think it will be endless, you are reminded—every day—of Oliver's expected and monstrously short time here with us.
Weekends and holidays are the hardest because it is not possible to replicate the structure and routine of school. We do have numerous aides that help us, but as other families know, it is never enough.
All that said, while the lows can be very low, we in turn create and experience very high highs each day. We live in the moment. We embrace the present and find joy in the little accomplishments that occur each day. If Oliver has a good night of sleep, we celebrate. If he sort of says a certain word he hasn't said in over a year, we throw our hands up and clap. If Reagan sees a lightning bug outside, it is the most interesting thing in the world. If dad actually manages to exercise, it's a big deal at our house. We start each morning hopeful and looking for joy, and we end each day often laughing, wrestling, snuggling on the bed. In between, we deal with Sanfilippo, relentlessly.
What drove you to get your child/children diagnosed? And what was the diagnosis journey like?
Oliver's preschool team worked tirelessly with us to help Oliver have a "successful day" through extreme behavioral challenges. We met often to strategize, introduced new therapies, attended counseling, completed parenting courses, added a half-day intensive preschool to his routine. All the things. After months, his preschool director said aloud, lovingly, what we had felt but never thought, "Do you think there's some regression?"
After that, panicked, working with our pediatrician, we got a referral to see a geneticist and neurologist to "rule things out." The genetics appointment was first and after a battery of questions on development milestones, showing photos of him at various ages, and observing and examining Oliver, we heard "Sanfilippo" for the first time.
Ironically, in our last therapy session before his diagnosis, the therapist said, "well, the good thing about behavioral issues is most kids outgrown them eventually." Just a week later, we were facing a terminal diagnosis.
It was crushing.
Learn more about Oliver and his family: