Hear directly from the Laughlin family – Shea, Erin, and Spencer!
Awareness is a huge part of fighting Sanfilippo Syndrome. With awareness comes caring and understanding, which can lead to support and donations for research that can give children with Sanfilippo more good days.
"Family Friday" are a way families and the Foundation help spread awareness, by sharing a window into their family's life. A window that builds understanding and visibility of life with Sanfilippo, the difficult and the uplifting, and everything in between.
This week, we are honored to share the insights and personal perspective of the Laughlin family. They live in Minnesota and Spencer is 3. She was diagnosed with Sanfilippo in September 2022.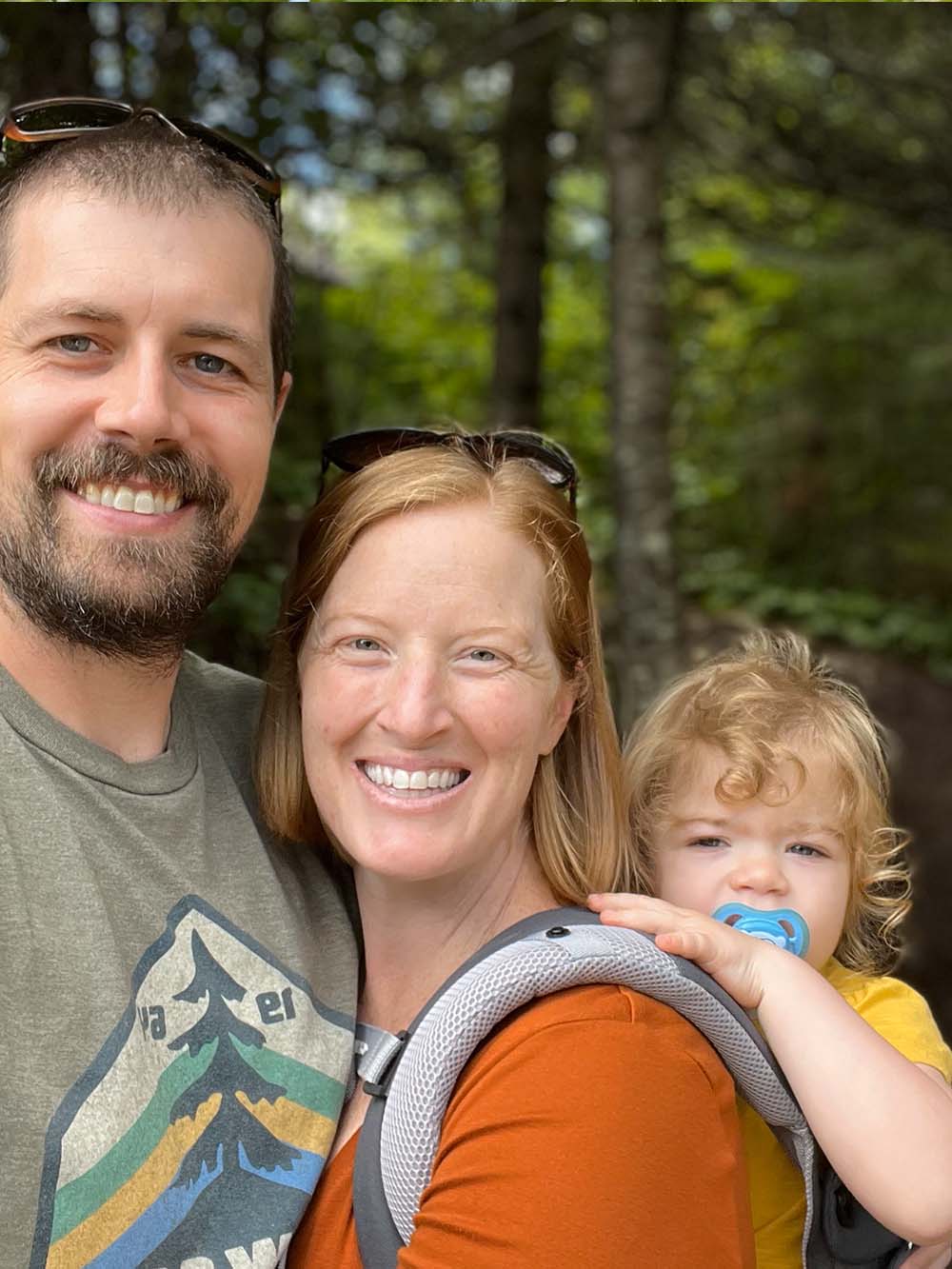 What is a "life with Sanfilippo" hack that you use all the time?
We recently purchased a more supportive harness with a leash. Spencer has a tendency to elope and has no concept of danger, so we are able to give her freedom to move while keeping her safe. It also has a great handle for the moments when her ataxia takes over and her legs collapse underneath her. We can safely get her to the ground and help her back up.
The other thing we have learned is to always, ALWAYS, have at least a 2 bottoms to 1 top ratio at all times. Because Spencer drinks a LOT of water day and night, she will leak through diapers at any given time. We use diaper booster pads to help combat the leaks, but it doesn't always work, so we are prepared with a change of bottoms at all times.
What is your day-to-day life like and how does it differ from a family that doesn't have a child with Sanfilippo? How is it also the same?
We are always on, always. We do not get a traditional break like our non-Sanfilippo peers. Because Spencer is non-verbal, we are always on the lookout for ways she is communicating with us. She communicates via gestures, vocalizations, cries, and more. She has ataxia which means she falls easily, so we are always prepared to catch her and keep her as safe as we can. Because Spencer has seizures of varying types, we are on the lookout for signs of a seizure or we are there to support her through them. Spencer also has three different types of food allergies, so public places are always a concern for contact and an allergic reaction. We prepare as best we can, but there are always going to be factors out of our control. Much of our days are spent at therapies or doctor appointments, whereas many of her peers are able to participate in more playful activities.
While much of our daily activities are the same as a non-Sanfilippo family, the ways in which we go about them are usually vastly different. Meals are generally eaten together, but Shea and I typically eat out of Spencer's line of sight due to her extreme food aversions. Bedtime routines look similar to many families, but I (Erin) lay with her to help her fall asleep and comfort her through her many wakings until Shea comes to bed. We co-sleep to ensure Spencer is safe and cared for throughout the night. We take her to the playground and join playdates, if we can, but instead of being able to sit on the side and enjoy watching our child play, we are nearby to ensure her safety, which allows it to continue to be enjoyable for her.
Our immense love for Spencer is no different than the love others have for their children.
What drove you to get your child/children diagnosed? And what was the diagnosis journey like?
Oof! I'm not sure if it was some sort of divine intervention or just social media's creepy data mining and algorithm, but after years of trying to get to the root of everything we were seeing, a video of Haidyn popped into my Instagram feed of her doing the "Sanfilippo Stare." After clicking on the post, reading the caption and ultimately Googling Sanfilippo, I came to the Cure Sanfilippo Foundation page and broke down in tears after reading the signs and symptoms. Spencer checked 10 out of 12, and in my gut I knew we found the answer before the tests were even back.
The following week, we met with Spencer's pediatrician to request testing. Thankfully the Cure Sanfilippo Foundation site had excellent resources for us to get started rather than waiting another agonizing six months before we could get into Genetics. And while her pediatrician wasn't overly familiar with Sanfilippo, he had cared for two kids with Hunters so he was receptive to what we were saying and agreed that testing would be beneficial.
We worked with Samantha at Genome Medical and started the multi-step testing process. After Spencer's initial saliva test came back as "potentially positive," we braced for the meeting with the Genome team. They stated that we needed to continue with the next steps to be certain to not to jump to any conclusions in the interim. We moved forward with parental testing and a blood sample to determine if Spencer had any enzymes. After a summer of waiting, we got the call on August 24th that changed our lives forever.
A few weeks later, we walked into the University of Minnesota Genetics appointment with a diagnosis in hand, which like Sanfilippo, was rare.
Even though we braced for the news starting in May, nothing could have prepared us for hearing those words. And as heartbroken as we still are, we are SO thankful for Carrie sharing Haidyn's story and for the Cure Sanfilippo Foundation for providing information and resources. Since then, it has been a process of working through grief and learning an entirely new and very complex world.
Learn more about Spencer and her family: