The Milawukee-area community continues to rally around the Stoop family and its fight to save their daughter Olivia.
Olivia has Sanfilippo Syndrome, a terminal degenerative disease in children that currently has no FDA-approved therapy or cure. But there is research that shows promise, but it needs funding.
In early December, on Olivia's birthday, the Stoops launched their "Saving Liv" campaign, which kicked off with an emotional three-minute video.
And "Saving Liv" has been met with great compassion and action. Within the first 36 hours, more than $100,000 had been donated. All donations benefit Cure Sanfilippo Foundation, a 501(c)3 non-profit (Tax ID 46-432131), leads in driving research to accelerate discovery of a cure for Sanfilippo Syndrome.
Most recently, the Muskego Girls Basketball Association invited the Stoop family – parents Erin and Tyler, Liv, and baby Liam – for a special presentation. Each year, the team has a season-long "Swishes for Wishes" fundraiser. And they had decided to donate their 2023 "Swishes for Wishes" to Saving Liv. 
The family was overwhelmed when the team presented them with a check for $33,409.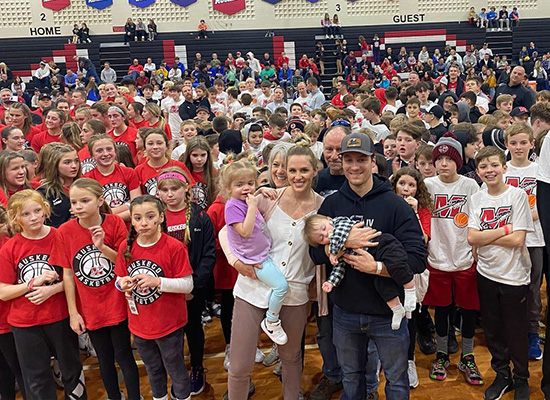 Olivia's family posted the following message of gratitude on Facebook Friday night:
"After we shared Liv's story in December our local community, in Muskego Wisconsin, reached out. Ryan, the President and Youth Program Director of the Muskego Girls Basketball Association asked if their annual "Swish for a Wish" fundraiser could help our family. "Absolutely!"

Well, we had no idea how big this event was. We were beyond blown away last night at their Warrior Winterizer event where they told Liv's story and presented our family with the check for over $33,000!!

Liv has SO many people who love her. And to see this group of kids, whom have never met Liv, work so hard to help us, it brings a smile to my heart. There is so much good in this world, and in this community.

We want to thank EVERYONE who had a hand in this, and I know it took a lot of work. We are so grateful.

We cannot wait to get this check to the Cure Sanfilippo Foundation. This will bring our total fundraising efforts to $300,000 in less than two months."