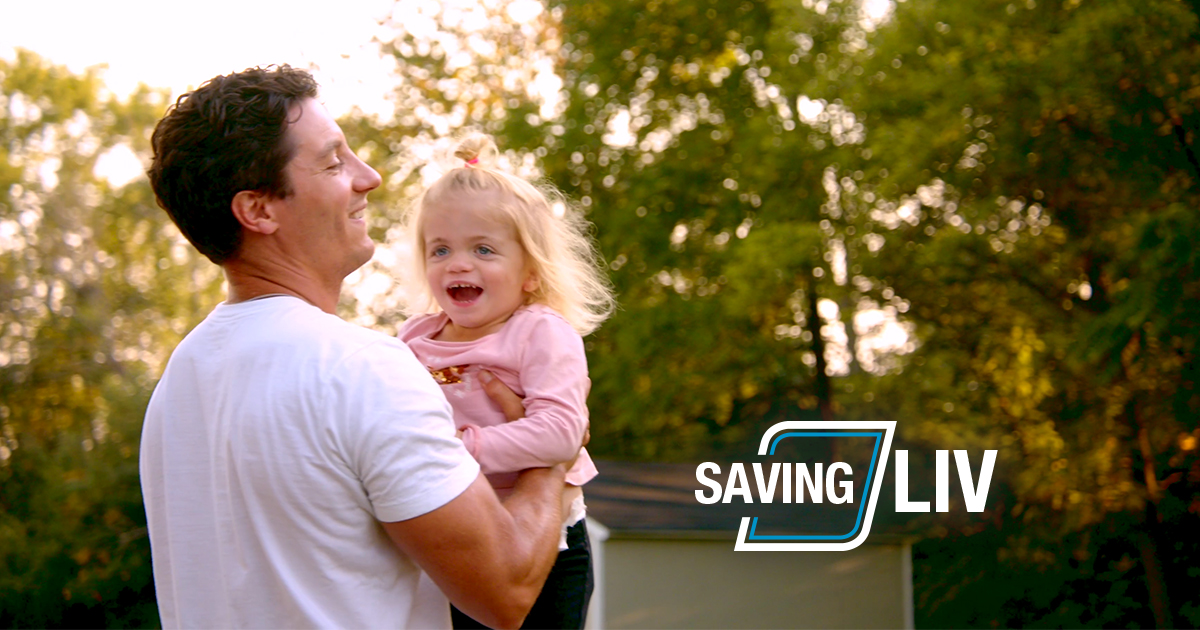 [COLUMBIA, SC] – Today is Olivia "Liv" Stoop's third birthday. Her "golden birthday." Her parents Erin and Tyler should be spending today celebrating this precious milestone with cake and presents. Instead, they are launching a social campaign they hope will save their happy, energetic daughter's life.
Liv has Sanfilippo Syndrome, a disease like Alzheimer's in children. This terminal, degenerative disease causes children to lose all the skills they've gained, suffer seizures and movement disorders, experience pain and suffering, dementia, and then die usually in their teen years.
Currently there is no FDA-approved treatment or cure for Sanfilippo Syndrome. However, there is promising research that could help Olivia. It just needs funding. And with enough funding, could lead to a clinical trial.
Olivia's family is sharing their story via a three-minute viral "Saving Liv" video to help raise money for current promising research underway that could lead to clinical trials. Research that could make a treatment available that allows Olivia to live and to thrive. A treatment that could help her and other children to escape the pain and suffering of Sanfilippo.
The "Saving Liv" viral video aims to raise $1 million for promising research currently underway that could lead to clinical trials, such as gene therapy, substrate reduction, and drugs already-approved for other diseases that could also help children with Sanfilippo. The goal of all of these therapeutic strategies is to lessen the build up of the toxic cellular waste in children's brains and bodies, which reduces neuroinflammation in the brain and prevents development of Sanfilippo's many disease symptoms.
"The urgency to bring forward clinical trials for children with Sanfilippo Syndrome, like Liv, is paramount," said Glenn O'Neill, President & Co-Founder of Cure Sanfilippo Foundation and father to a daughter with Sanfilippo Syndrome. "Every second the disease is working and causing further damage to cells in the children's brain and body."
Viewers of the "Saving Liv" video are asked to donate to SavingLiv.com and to share the video with others to keep spreading Olivia's story.
"The emotional and heartbreaking, yet inspiring, video especially resonates with parents who see their children in Liv's playfulness, smile, and joy," said O'Neill. "It's natural to do everything and anything to protect your child. Any parent can relate. The Stoops are doing just that, taking a stand against this disease, and are pleading for public support to help give Liv a chance."
Watch the video and learn more about Erin and Tyler's fight to save Olivia at SavingLiv.com.
Cure Sanfilippo Foundation is a 501(c)3 nonprofit dedicated to advocating and funding research to bring about treatments and/or a cure for Sanfilippo Syndrome. Cure Sanfilippo has funded 35+ research grants around the world which has helped three clinical trials get underway, to date, treating children with Sanfilippo Syndrome. The Foundation creates and explores innovative and breakthrough research to ensure multiple promising paths are being explored in the effort to save children and better their quality of life. Learn more about Sanfilippo Syndrome and the Foundation at CureSanfilippoFoundation.org.
Photography courtesy of the family and Traci Stoop of Stoop Images.