Sara Burroughs, mom of Carson, who is 11 and has Sanfilippo Syndrome, was invited by Brian Roberts to be the first guest on his inaugural BRob Inspired podcast, which is dedicated to sharing "ordinary people doing extraordinary things."
Sara and Brian began the podcast chatting about Carson in general. Sara described him as "having lots of energy" and "the light of our lives."
The journey to get Carson diagnosed with Sanfilippo Syndrome took several years. Like many babies with Sanfilippo, Carson had some minor issues at birth that resolved; therefore, they were no longer a concern. But in his early years, Sara and her husband Craig noticed some developmental delays in Carson, which is the most-common symptoms that drives parents to seek a diagnosis. When Carson was 5 years old, they pushed for testing because of the continued delays and he was diagnosed by a neurologist.
Related: Early and later symptoms of Sanfilippo Syndrome
At the time when he was diagnosed, Carson had minor developmental delays, shared Sara. As time has gone by, Sara and Craig have noticed more symptoms of Sanfilippo in Carson because of the degenerative nature of the disease.
Sara explained how Sanfilippo causes this neural degeneration by detailing that the disease is like Alzheimer's in that cellular trash builds up in the children's brain cells, which causes cellular death and the loss of known skills and abilities.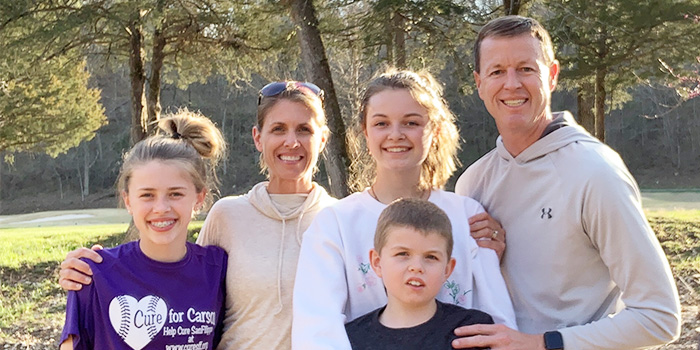 Brain asked Sara, "How as a parent, do you cope?"
Sara replied, "The day the doctor gave us the diagnosis is one I'll definitely never forget. It was a hard blow to our emotional stability. But at the beginning, all those symptoms seemed so far off. We dove right into the fundraising. At age 5, we felt like by age 11 we might have a cure for this disease. We did lots of fundraisers. We did lots of awareness over the years. We've done t-shirt sales and golf tournaments and dinner auctions and everything to try to help raise money for research."
She continued, "As time had gone on, it's been a little more difficult because we're dealing with more of the symptoms of Sanfilippo. Our day to day, or each day, I guess is a little difficult. [Carson] has a lot more needs. He basically can't be left alone, even in the house. He can't dress himself. He can't go to the bathroom on his own. He can still feed himself, though. The boy can definitely put down the food! That has definitely not changed yet, luckily. It's a very stressful environment to know that you have this child that needs so much at age 11."
"It's definitely quite stressful. It's exhausting. He has a lot of behaviors … He's very agitated. He can't really express why or what he's feeling. He can't tell us he's sad or hurt or tell us where he's hurt."
When asked how Sanfilippo impacts their two daughters, Hannah and Addison, and the Burroughs' marriage, Sara shared that the girls have not had a normal childhood simply because of the limitations their family must have in order to best care for Carson. Despite that, Sara shared that Hannah and Addison have great patience and are great helpers with caring for Carson's daily needs, such as bathing and feeding.
"We feel bad that they don't get to do some of those things that normal teenagers get to do, but on a positive note, it's brought us closer as a family," said Sara.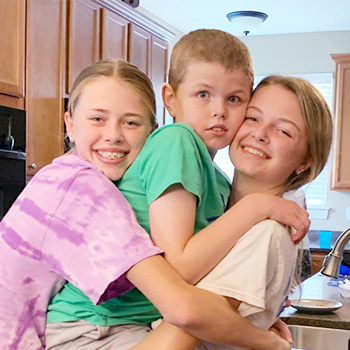 Sara and Brian then talk about how the families of children with Sanfilippo are largely responsible for funding and advancing research and clinical trials to find the first-ever treatment. Sara encouraged anyone interested in supporting rare diseases like Sanfilippo to support the fundraising efforts of families of affected children and organizations led by families, such as Cure Sanfilippo Foundation, because they are the ones pushing forward research.
Sara shared how their family became aligned with Cure Sanfilippo Foundation shortly after Carson's diagnosis. As they looked for information about the disease and for hope, they came across the Foundation and reached out to its founders Glenn and Cara O'Neill, who personally provided information and support in raising awareness in addition to emotional support. This shared, ongoing, first-person experience with the O'Neills has been invaluable to the Burroughs. "We are walking side by side through this journey [with Sanfilippo Syndrome] with them," said Sara.
Circling back to the question about the marital impact, Sara acknowledged that Sanfilippo is very hard on a marriage. With candor, Sara shared that, at the end of the day, she and Craig are often so tired that it's hard to have much time or energy to then spend on their bond. Therefore, they actively work on it to keep their relationship healthy.
Brain asked Sara how she manages "to do it all" – be a mom, wife, caregiver to a child with Sanfilippo, and employee. Sara explained that she and they aren't different from any other mother and family; they figure it out and make it work.
Sara shared that having a child with Sanfilippo Syndrome creates many emotions and it can be a constant struggle to manage them all. But she takes comfort in the support of their community and their faith. "Our suffering will prove to be something bigger."
Watch the podcast below.