Would you believe me that TikTok is a place filled with amazing, kind-hearted people?
I know because we've experienced it.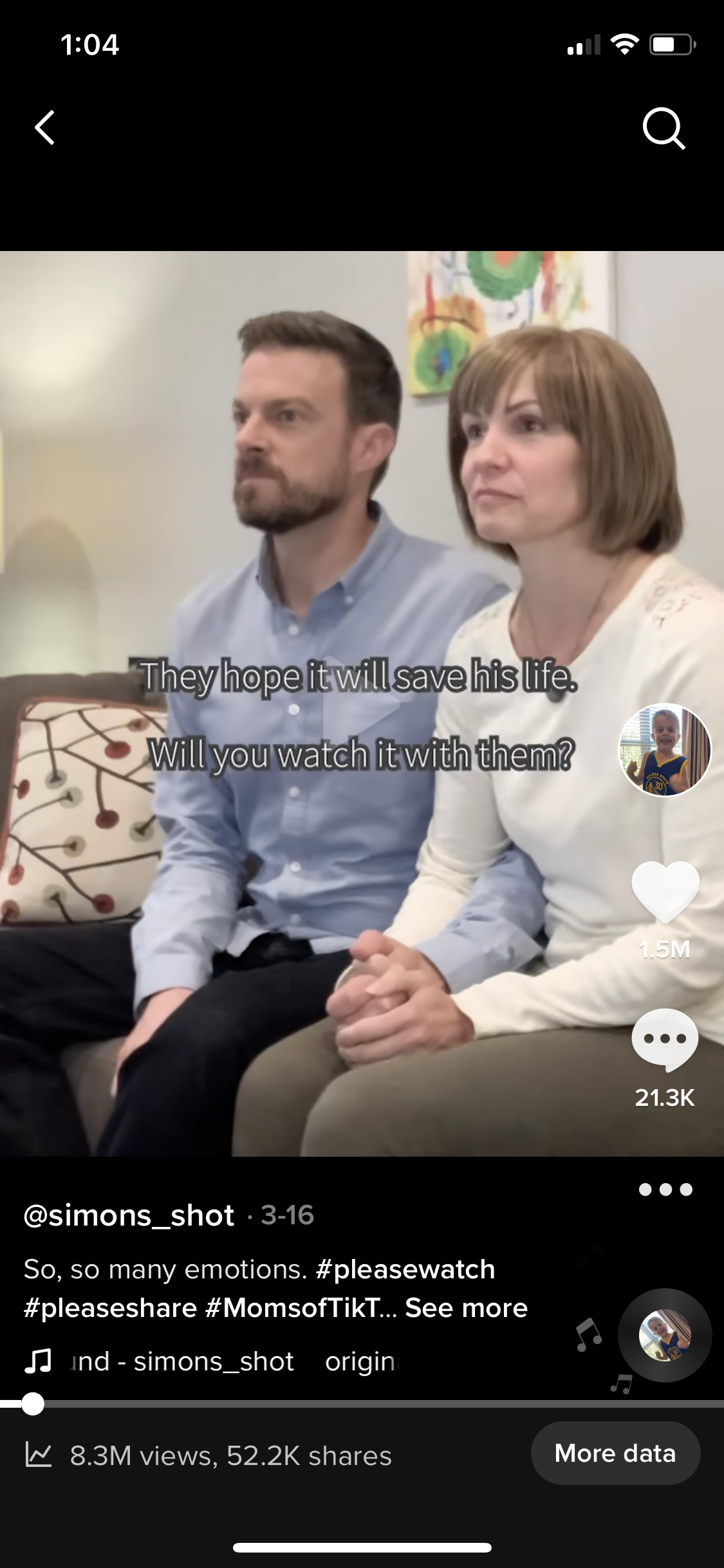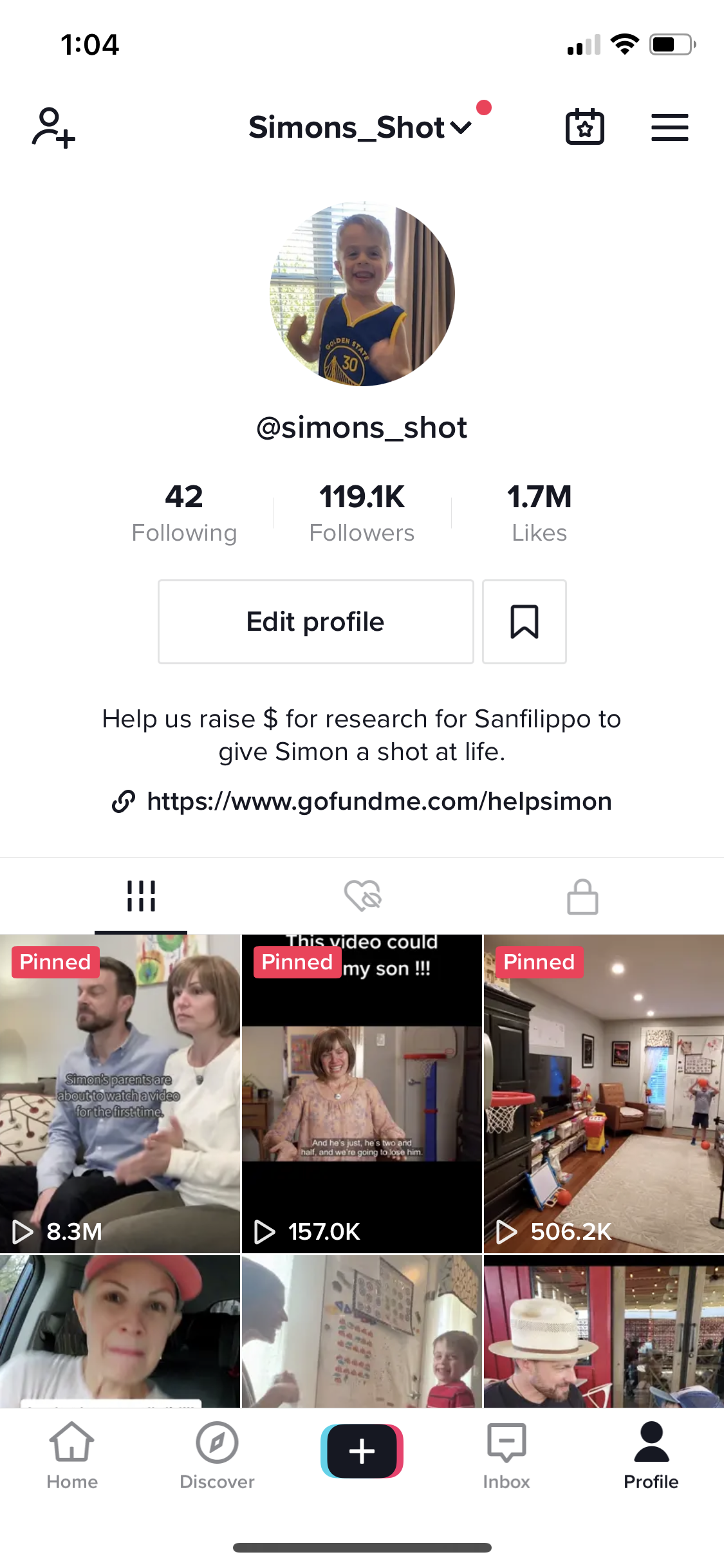 "Will you watch it with us?" With this six-word invitation, millions of people on TikTok opened their hearts and joined my husband Jeremy and me in watching a very private and emotional moment.
And the millions of people on TikTok didn't just watch. They leapt into action and came to our aid. In a huge way. In a way that is new to TikTok.
Our five-year-old son Simon has a smile that lights a room and a remarkable ability to shoot basketballs. He also has Sanfilippo Syndrome, a terrible neurodegenerative disease that's likened to Alzheimer's in children. And there is currently no treatment or cure.
But there is hope. There are two new, promising research pathways that could help Simon and other children with Sanfilippo. So we have thrown ourselves into helping fundraise for this critical research.
We created a 'Help Simon' fundraiser on GoFundMe in partnership with Cure Sanfilippo Foundation, a leading nonprofit regarding Sanfilippo and funder of the research. All donations go directly to the Foundation for the two research projects.
As of two weeks ago, we had raised $107,168. And we had been sharing a few videos of Simon's remarkable basketball skills on TikTok and had built a very modest following of nearly 3,500 followers.
We never could have imagined what would happen next.
On Wednesday, March 16, we uploaded a video of ourselves when we watched 'Help Simon' for the first time. We hoped that by sharing this very vulnerable moment, it would help bring some attention to our efforts to raise money to fight Sanfilippo Syndrome.
The TikTok community immediately embraced our story and lent their support in a huge way. Likes, comments, and donations began pouring in. In the first 24 hours, people seeing the 'First Watch' video on TikTok donated more than $10,000, and we thought that was amazing.
Today is exactly two weeks later and what the TikTok community has made happen is truly stunning.
More than 8.2 million people have watched our reaction to seeing 'Help Simon' for the first time. The video has amassed more than 1.2 million likes and more than 12,100 comments. People's comments bolstering our hope, sending their love and support, and sharing that they have donated and shared the video. People with little to spare, choosing to give. Fellow moms lending their support. Other parents of children with rare diseases offering comfort.
Our TikTok video has been shared more than 21,000 times on multiple social media platforms. It has also attracted support from retired NBA star Dr. Chantel Tremitiere (AuntieChanel), TikTok challenge creator Alex Presley (@AlexPresley_), and singer/songwriter Forest Blakk (@ForestBlakk).
Followers of @Simons_Shot have risen to more than 117,500 people in just two weeks.
The TikTok community has also been tirelessly tagging famous accounts thousands of times in the comments, including the NBA, ESPN, Shaquille O'Neal, Stephan Curry, and Dude Perfect, hoping for their support and additional exposure for Simon's story. Just Monday, the NBA's TikTok account responded.
Our GoFundMe for the research currently stands at $300,060 and counting. Nearly $190,000 from TikTok supporters just since this new video was released. Amazing.
We are absolutely awed by the kindness and generosity of the TikTok community. The less pleasant sides of social media platforms are often talked about, but this is a reminder that these platforms are also filled with people willing to open their hearts and help others.
We know because we've personally experienced it.
To our knowledge, this is one of the first TikTok accounts to raise significant funds for a nonprofit (rather than personal) cause.
Our tremendous thanks for this amazing support,
Alina, Simon's mom