Glenn and Cara O'Neill were recognized by 93.1 The Lake (Columbia, SC) in March as one of its "Hometown Heroes." Glenn and Cara lead Cure Sanfilippo Foundation as President/Co-Founder and Chief Science Officer/Co-Founder, respectively.
Part of the recognition included a half-hour interview with host Tony Clyburn, who has known the O'Neills since they began their public campaign to cure Sanfilippo Syndrome in 2013.In the wide-ranging and sometimes emotional interview, Glenn and Cara talk about Sanfilippo and its signs and symptoms, the importance of early diagnosis, and how the Foundation was formed and its current direction. They also talk personally about how Eliza is doing, how they utilize their individual and collective talents to help children with Sanfilippo, and how it affects them individually and as a family.
The important of early diagnosis
Sanfilippo Syndrome occurs in roughly 1 in every 70,000 births. In the interview, Cara noted the challenge of children receiving accurate and timely diagnoses because Sanfilippo is a rare disease that many healthcare professionals have never seen in their practice.
Sanfilippo is considered a rare disease, which is defined by the Orphan Drug Act as a condition that affects less than 200,000 people in the U.S. Yet, Sanfilippo Syndrome is a genetic disease, meaning each parent must be a carrier of the genetic mutation in order for a child to have a chance at being affected with Sanfilippo.
Glenn shared that many would be surprised to know that the carrier rate for Sanfilippo is only 1 in 133. Therefore, in a room of 266 people, there will be two people who together would have a 25% chance of having a child with Sanfilippo.
The challenge with many rare diseases, like Sanfilippo, is the current difficulty in getting accurate and timely diagnosis.
Issues such a recurring ear and sinus infections, large head size, fast breathing after birth, umbilical hernia, and coarse facial features (such as prominent eyebrows) are often early indicators of Sanfilippo in young children.
"Some of those [symptoms] can individually be quite common in childhood. But looking at them together, those would be triggers for screening for Sanfilippo and diseases like it," said Cara.
Developmental delays are often another early sign and are typically the impetus for parents pursuing answers.
"Often [children with developmental delays are] referred to early interventionists, and they get some help. But we are in an age of medicine now where our diagnostic ability has increased so much — with genetic testing and the ability to diagnose these rare conditions — that we [the medical community] really need to be proactive in testing these kids who are diagnosed with developmental delays and Autism," said Cara.
Free app to help healthcare providers screen patients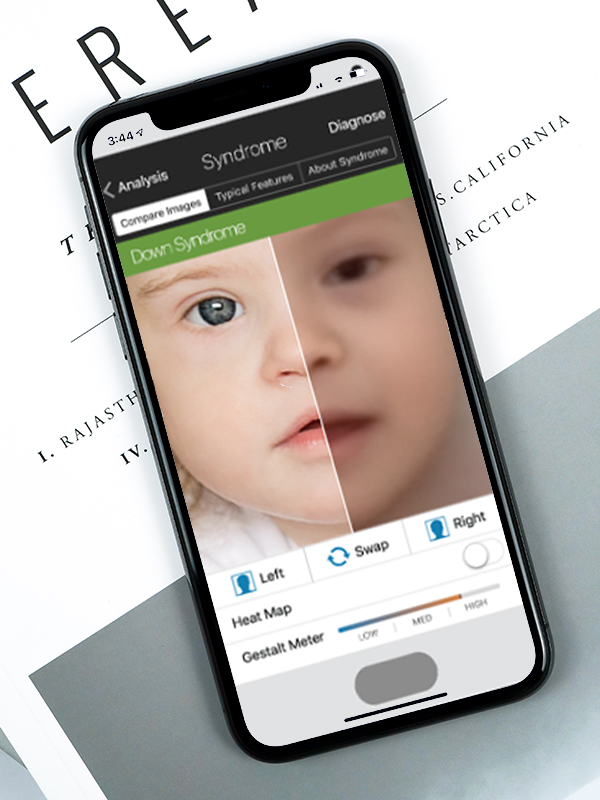 A free app, called Face 2 Gene, is available to help healthcare providers screen for a variety of conditions through facial recognition technology.
In the app, "You can take a picture of a patient, and the app will analyze them for facial features of a variety of different conditions, particularly genetic conditions," explained Cara. Healthcare providers can also manually enter patient symptoms into the app and the algorithm provides a list of the top most-likely 20 diagnoses.
The healthcare provider can then consider these top most-likely diagnoses within their clinical expertise to investigate whether these conditions seem appropriate and decide if testing should be pursued.
"It gets clinicians to begin thinking, 'What are the genetic conditions I need to be keeping in mind for this patient?'," said Cara. "It is really amazing tool that I would love to see used more."
Cure Sanfilippo Foundation has supported the Face 2 Gene tool's development.
Cure Sanfilippo Foundation has supported the Face 2 Gene tool's development.
"We were able to enhance that tool with images of many children and patients with Sanfilippo Syndrome, so it could learn the facial features and symptoms of the disease and be more accurate in suggesting that as a diagnosis," said Cara.
The intersection of Sanfilippo and Autism
"Autism is one of those diagnoses that tends to go along with Sanfilippo. Often children are diagnosed with Autism first. Cara clarified in the interview that Autism isn't a misdiagnosis. Rather, it's a co-morbid diagnosis. "Autism goes along with Sanfilippo. There's a lot of different genetic conditions that also have Autism that goes along with it." If you have a child with Autism for whom an underlying diagnosis hasn't been pursued or you have noticed things evolving with the child, the recommendation is to talk with your doctor or geneticist. The ability to diagnosis conditions has advanced greatly and might find a related conditions that was unexplored previously. "If it has been a while, it's always good to check back in and ask those questions," recommended Cara.
>>Learn more about Sanfilippo and Autism
From a diagnosis to creating a nonprofit
After Eliza was diagnosed in 2013, Glenn and Cara immediately dove into learning what options existed for giving their daughter a chance at life.
Glenn shared that Cara "immediately started calling doctors and researchers around the world to find out what was happening and state of research in Sanfilippo."
Among the limited research into Sanfilippo happening at the time, they found a gene therapy project in development at Nationwide Children's Hospital in Ohio. However, it needed millions to get underway and begin treating children.
"This was Eliza and others' only chance at a clinical trial because there was little activity happening in Sanfilippo research at that time," said Glenn. "We needed to raise $2 million to help get the trial up and running. We understood there were no guarantees, Eliza would be treated, just the chance."
They quickly concluded that they had to do something themselves, to create a foundation. They created Cure Sanfilippo Foundation, a 501(c)3 nonprofit, in November 2013.
"It takes millions to move the needle in rare disease research, unfortunately," said Glenn in the interview. "Often when it's a rare disease, the larger biotechs, because of the low patient populations, aren't necessarily interested in that disease because there's not a lot of money to be made. Nonprofits and parents of the children are left to try to raise the money for research."
To setting fundraising records with 'Saving Eliza'
With a goal of raising the $2 million for the gene therapy clinical trial, Glenn started connecting with everyone he knew, asking for help.
One connection put Glenn in touch with eccentric photographer Benjamin Von Wong, who had available time and volunteered to make a video telling the family's story and urgent need.
Von Wong flew across the country and stayed on Glenn and Cara's couch for eight days, filming and editing the video the entire time.
"We had nothing to lose," said Glenn about taking this chance. "With this disease, you're racing against time. It's degenerative and everything is going backwards fast."
On April 2, 2014, the video "Saving Eliza" was released. In 15 days, it raised $500,000. In a month, it raised $1 million. It got the O'Neill's on The Today Show, Doctors TV show, Inside Edition, and more.
It was the first fundraiser on GoFundMe to ever raise $1 million. And then became the first to ever raise $2 million.
"It's just unbelievable," said Glenn in the interview. "These dollars went to fund the gene therapy clinical trial. And the clinical trial is still ongoing today. It has treated over 30 children [via] two different clinical trials. Eliza was one of the children treated."
How the Foundation has evolved and grown
From starting in Glenn and Cara's spare bedroom, Cure Sanfilippo Foundation now has four employees, funded 37 different research projects around the world, and raised more than $12.5 million since 2013.
The Foundation has become a resource for real-world knowledge this disease.
"We have people contacting us – parents from around the world, from countries in Africa, middle East, the Ukraine, Belarus, India," said Cara. "We're trying to make a change. Not only for Sanfilippo, for the way children with neurologic disease and rare disease are recognized."
There are 300 million Americans with rare disease, and only 5% of people with rare diseases have treatments available.
"The need is so great. We're a small part of that. An increasingly louder part of it. Because we need to be. Our children don't have that voice for themselves," said Cara.
As it did with everything, the pandemic did impact the Foundation's work.
"The research didn't halt, but it was delayed," said Glenn. "Many of our grants had to file for no-cost extensions, pushing the research down the road because they couldn't get the materials, they didn't have the staff coming in."
In looking to the future, "We always have to think many steps ahead," said Cara. "As a Foundation, that's one way we have tried to attack the research gaps. All of our eggs are not in one basket. We are going at all angles of Sanfilippo – treatment wise, understanding more about the disease, newborn screening, early diagnosis, physician education. Really looking at it as a whole."
What is needed right now for Sanfilippo?
Glenn and Cara's ultimate goal: Helping children.
"Funding is a big gap. Funding is always a big gap," said Glenn in response to Tony asking about what the Foundation needs to achieve its mission.
"It's about getting to the point where we have FDA-approved treatments that are effective and available for children," said Glenn. "We continue funding research and continue working closely with the FDA because there are several clinical trials that are happening that we believe are helping children."
Glenn and Cara acknowledge that finding a cure isn't going to happen overnight. They foresee that it will likely be a variety of treatments given to the child over their lifetime that's going to help them.
"We need the FDA to understand that just because [a potential therapy] doesn't fix everything, [such as] fix the brain completely, there are treatments that can benefit these children and get us started with something that potentially slow the disease down," said Glenn.
"You would at least want that: slow the disease down. Until the next therapy comes along."
Glenn and Cara's personal journey
When Eliza was diagnosed in July 2013 and she began putting her energies towards the science of treating Sanfilippo, Cara says her life "came full circle" as she went from practicing physician in a special needs department of Columbia children's hospital to research scientists.
"I was definitely a position to be able to use the work and the training that I had, and certainly never expected to apply it in this way," said Cara about the advantage of her medical background. "But, what a blessing to be able to start out with that and not having to learn science from ground zero."
"Cara is the differentiator for our Foundation. Without a doubt," said Glenn. "She [as the Foundation's Chief Science Officer] works with the scientific advisory board; people come to our Foundation for her expertise; biotechs [ask] her to help craft and create clinical trials for Sanfilippo. It's an everyday, every minute thing where people are coming to get her knowledge. What's in her head is really, really what sets us apart."
Interviewer Tony Clyburn shared his admiration for Glenn's relentless drive to "get this solved in his lifetime with plenty of time to spare," as the host put it.
Cara chimed in, saying that Glenn "is a dad that every child would be so lucky to have."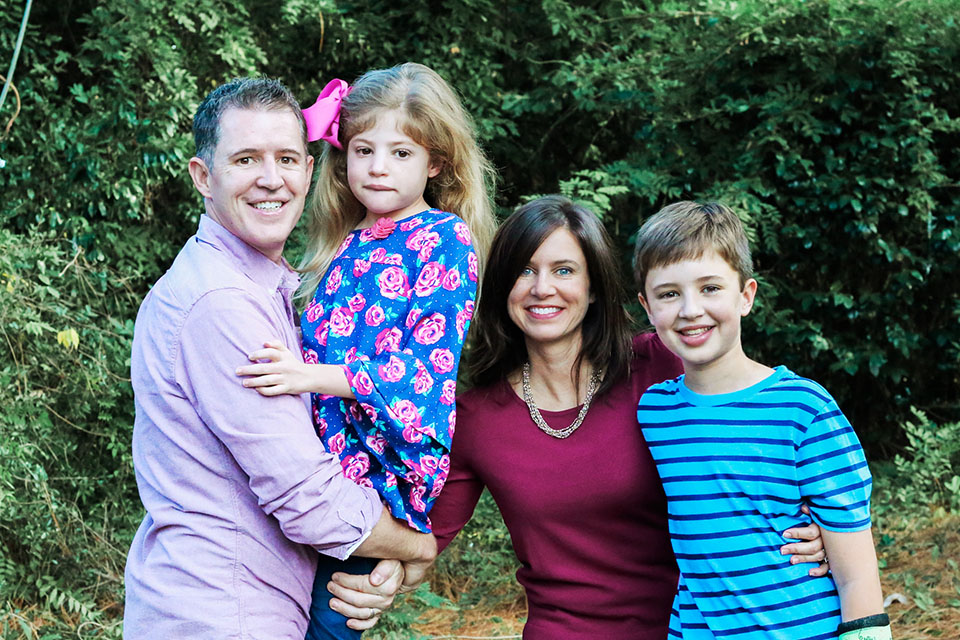 How Eliza is doing today
When asked how Eliza is doing, Cara shared that Eliza has a lot of challenges. "Every day, we take it as every day." The average life expectancy for a child with her type of Sanfilippo, Type A, is about 15. Eliza turned 12 in November 2021. "We are incredibly grateful for the things she still has and the quality of life she still has: walking, feeding herself some. She goes to school every day, and we're so thankful for the wonderful school environment she's in this year. It's really been a blessing." Eliza has a lot of loud vocalizations, which can attract people's attention when the O'Neills go out in public. "We are incredibly thankful for those people who give us a smile," said Cara, her voice filled with emotion. "You look at us, with an expression of understanding. [And it means so much to us] because it can be hard." When asked about coping with the grief of your child having a terminal disease, Cara said, "You don't get over that your child has [Sanfilippo], but you do recognize that to dwell in the sorrow of it constantly doesn't serve you or your children and isn't going to make things better. So you have to learn to always be looking forward." "We know where Eliza is in this disease. Like I say to anyone I talk to, 'We're still fighting for her and fighting for her quality of life. For better and more good days'," said Glenn. "But we also realize the work that we're doing is going to help future families, future children so they don't have to see this destruction of a child." "We know that Eliza's life has purpose. We know that our lives have purpose. Doing this work, doing this job, it's a way to take me away from the reality of what's happening every day to my daughter," said Glenn.