Sharing your child's journey with Sanfilippo can advance new treatments
Because Sanfilippo Syndrome is rare, researchers need more information directly from patients and their families to understand the condition.
Your child's progression, symptoms and health challenges from Sanfilippo Syndrome are all important clues that can help researchers develop new treatments.
How does joining AllStripes work?
AllStripes's number 1 goal is to make it as easy as possible for you to contribute to research. Here's more detail on how it works:
1. YOUR ONLY PART – Sign up (takes about 15-20 minutes): Create your private account at allstripes.com/sanfilippo, review AllStripes' research consents, and simply share the names of the health facilities where your child has been seen. No appointments, no uploads. No remembering doctors' names, appointment dates, tests ordered, results, etc. Just the names of the health facilities.
2. AllStripes gets to work: AllStripes does all the behind-the-scenes work to retrieve and process your child's records. AllStripes will send you updates as it requests and collects your records.
3. Access your records: The AllStripes team will upload all your records, including doctors' notes that you've probably never seen before, into your secure account. You can download your records at any time or share with doctors or other members of your care team.
4. Power research, from home: The AllStripes team de-identifies your records (removing information like name and address), structures the information and combines it with information from the rest of your condition community.
Using that new pool of combined knowledge, AllStripes analyze patterns in care, symptoms, and progression to drive forward treatment research.
5. Receive updates: AllStripes will keep you updated on what is being learned from your community and when new studies are added for your child's condition(s).
Currently, this research is limited to families in USA, United Kingdom, or Canada. There are hopes to expand it to any interested family globally.
Records of children with Sanfilippo Syndrome who have passed away are welcome and very useful for this project.
What is AllStripes?
As the leading research platform dedicated to rare diseases, AllStripes makes it easy for patients to contribute to new treatment studies from home.
We do the work to collect and analyze your de-identified medical records to help power faster, better drug development for your condition.
To learn more contact us at community@allstripes.com or visit allstripes.com.
About Cure Sanfilippo Foundation's partnership with AllStripes
Cure Sanfilippo Foundation has partners with AllStripes on this critical research endeavor and invites families from around the world, representing all types of Sanfilippo, to participate.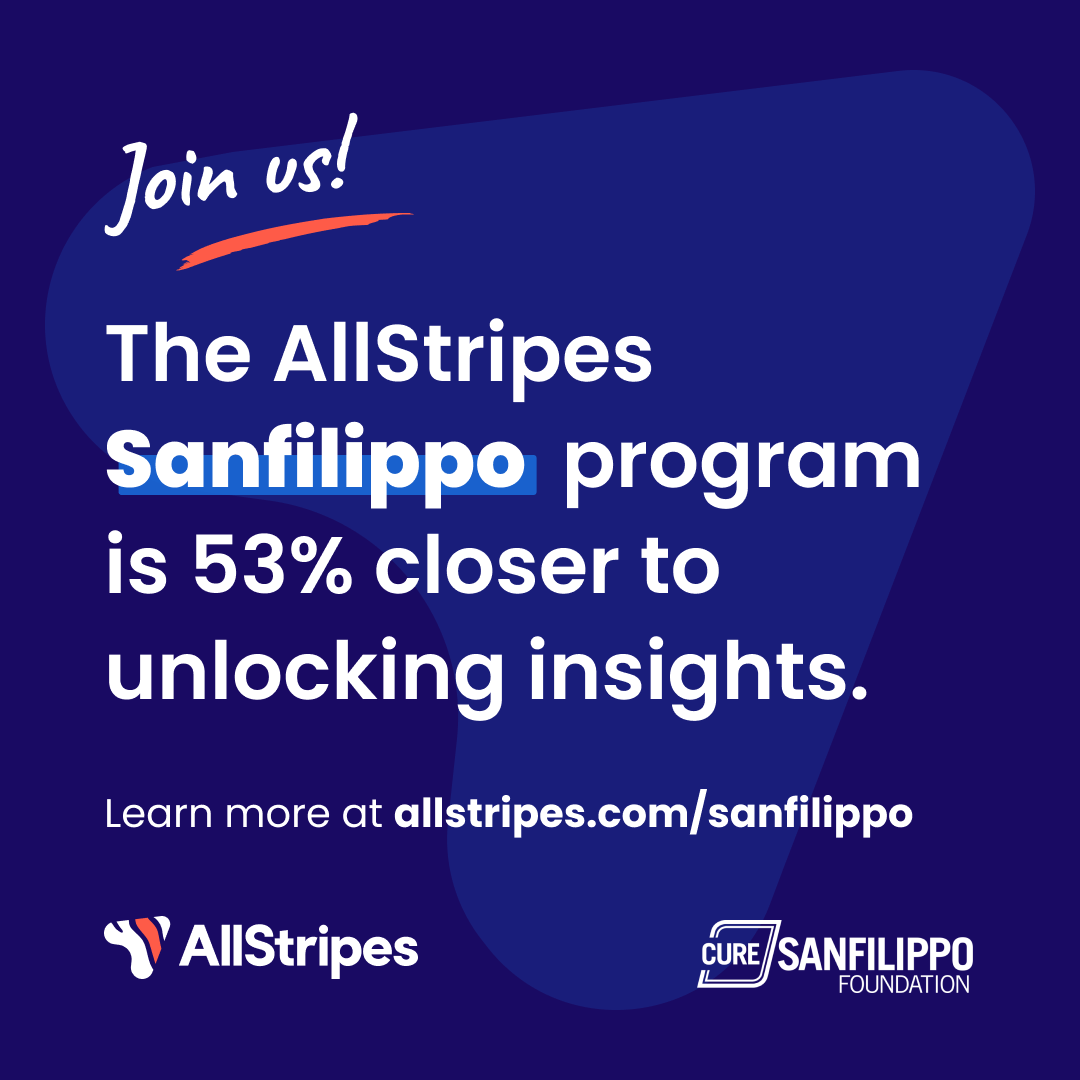 "The AllStripes Sanfilippo Syndrome research program is 53% of the way to unlocking community insights!" as of Jan. 12, 2022, according to Foundation President Glenn O'Neill. "Help reach this goal to jumpstart the research program. It takes only about 15-20 minutes to sign up."