Get to know the Pearson family – Bruce, Cybill, Simone, Joana, and Solomon!
Find out what the past year has been like in their lives with this week's Family Friday.
Get a glimpse into living with Sanfilippo Syndrome through the Pearson family's honest and insightful perspective.
The Pearsons live in Texas. Solomon turns 13 in August and was diagnosed with Sanfilippo in December 2019.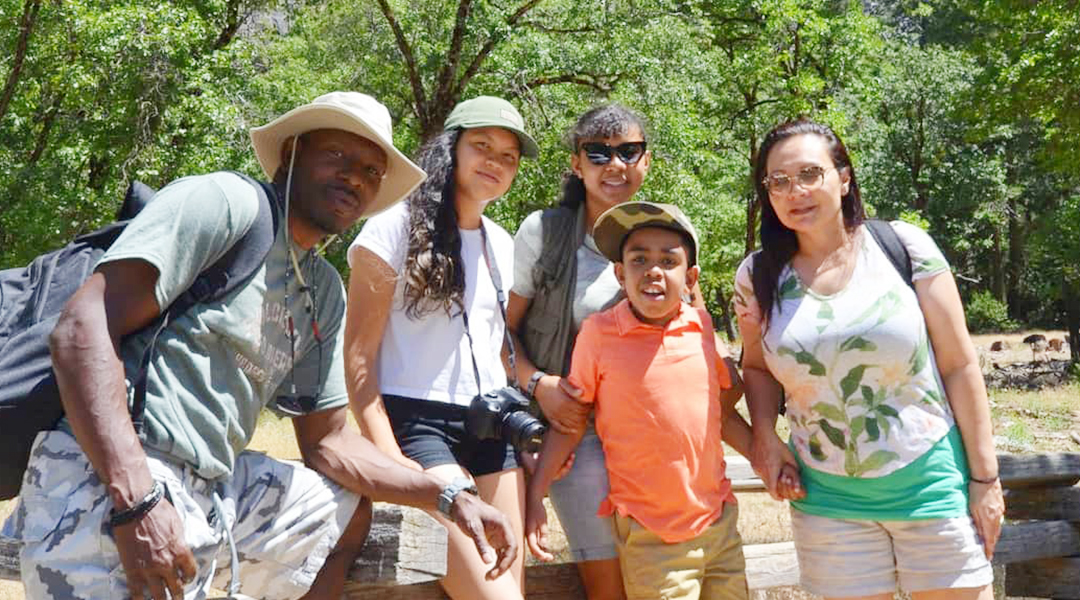 What has been going on in your family and for your child in the past year? What have been hard parts? What have been bright spots?
Solomon was diagnosed in December 2019, a couple months before all the COVID restrictions. So in addition to navigating the new diagnosis, we spent the year scheduling appointments and traveling to UCLA to visit with every medical specialist imaginable, completing initial diagnostic testing to be told, "Yup, this is wrong, but to be expected with Sanfilippo." He will not wear any type of mask or face covering so finding tricky ways to even get him in the door to be seen was a challenge and even led to some tense moments in waiting room with strangers. Having to endure all the appointments and results alone would be challenging, but coupled with all the restrictions and the one-parent-only rule, it was harder than words can express.
Online school like for most kids was rough to say the least. His school made zero accommodations for special needs, so the expectation to sit in front of a screen the entire day became a daily challenge and produced no fruit. We wanted to supplement to make sure he could at least maintain. But after so many hours of Zoom school, then 2 hours of ABA therapy, it seemed like torture to let him do anything but play and roam at will. It's looking like LA will keep the mask mandate, so Zoom school may continue for him unfortunately.
Having him at home with the family has had its blessings as well. We were able to have time enjoying one another as a family. Getting a terminal diagnosis really brings home the value of time and appreciating each moment. It has also allowed for us to be more observant and attentive to his needs. We have been more attuned to what is the root cause to his behavior, responses and ails, and have created routines and responses that have had a great impact in his overall care. Thankfully, his ABA in the home has continued and the support and guidance has been a tremendous help. We have even been able to take family stay-cations and visit places usually packed and overwhelming to visit. We visited an empty Yosemite, Bass Lake, Oceanside, San Diego, and local beaches.
We are also so blessed with such a wonderful support system. We have been shocked and humbled by the support of so many people in so many different ways and from many unexpected sources. This journey has really helped us see the goodness of people and has taught us such a capacity to love, count our blessings and be accepting of others and to value them. As much as I would not wish for this to be our situation, there has been tremendous growth, bonding and love revealed through this journey.
What is your child like today, compared to when they were diagnosed?
His diagnosis is pretty recent for us and later than other kids with Sanfilippo. He was diagnosed at 11, so up until this diagnosis, we all thought it was autism and ADHD. What we couldn't understand was the regression from fully reading and doing well in school, to losing all those abilities, safety boundaries, social skills, and toileting skills. When in 5th grade, he returned to the school he attended in Kinder to 1st, his teacher was absolutely shocked at how much he had lost in his years away and was determined to bring him back up to speed.
As the year continued and the skills and comprehension continued to regress and then needing to wear a pull up in class, we knew something more was going on. No one had answers, which led us to genetics. Since his diagnosis we have had clarification on other medical issues – GI, hearing, heart, vision, ortho, etc. – that we just always thought, "Why him all the time?" as each issue came up. Now we know it comes with the territory.
Finding out this year that he meets the requirement for being legal blind was shocking. As we learned more and more from each specialist, we had to try not to kick ourselves for missing so many signs. When you invest so much time in creating a safe, comfortable environment, you miss signs. He has also developed seizure like head drops we call "episodes" because multiple doctors cannot explain them, but stress they are not seizures. We have had to reach out to other families and direct the doctors in many circumstances of treatments to try. Thankfully they have been open and many have shocked them at how effective they have been.
So in this last year since diagnosis, we have added doctor, nurse, caretaker, therapist, researcher, fundraiser, advocate, educator, and scientist to our list of parenting credentials. It has been quite a journey already and we have only just begun.
What is one thing people would be surprised to know about living with Sanfilippo?
How much planning and how many resources it takes to even leave the house. When we get invited out, people will say, "Oh just come," etc. They don't realize the bag we have to pack with all the diapering essentials, medication, food, and snacks due to his food allergies; plotting the drive as he gets car sick; praying for no potty accidents en route; and hearing him cry in discomfort, knowing you still have miles to your destination. Once we get there, it's hoping nothing gets broken from his love of throwing or that he doesn't dart away.
Even running to the store or eating at a restaurant takes so much work. He's so fast and busy, and most places aren't set up for that. Most places or people aren't really accommodating to kids who don't control their volume or are unpredictable.
But still, we constantly work on crafting experiences he will enjoy, along with the family, making great memories and making him happy. It is a lot of extra work, but all worth it to see him smile and include him in our family memories.
I've learned to adjust our expectations, but also not be bothered by other people, as our kids deserve to enjoy life, the outdoors and not be judged or excluded. I'm no longer surprised by how so many people lack grace and inclusion. But we have been blessed to know so many that do, and we let that fuel us. We live our lives best we can when we can.
Follow the Pearsons' journey