Get to know the Merrick family – John, Lindsay, Caroline, and Georgia Kate!
Find out what the past year has been like in their lives with this week's Family Friday.
Get a glimpse into living with Sanfilippo Syndrome through the Merrick family's honest and insightful perspective. The Merricks lives in Indiana.
Caroline is 5
and was diagnosed with Sanfilippo in July 2017.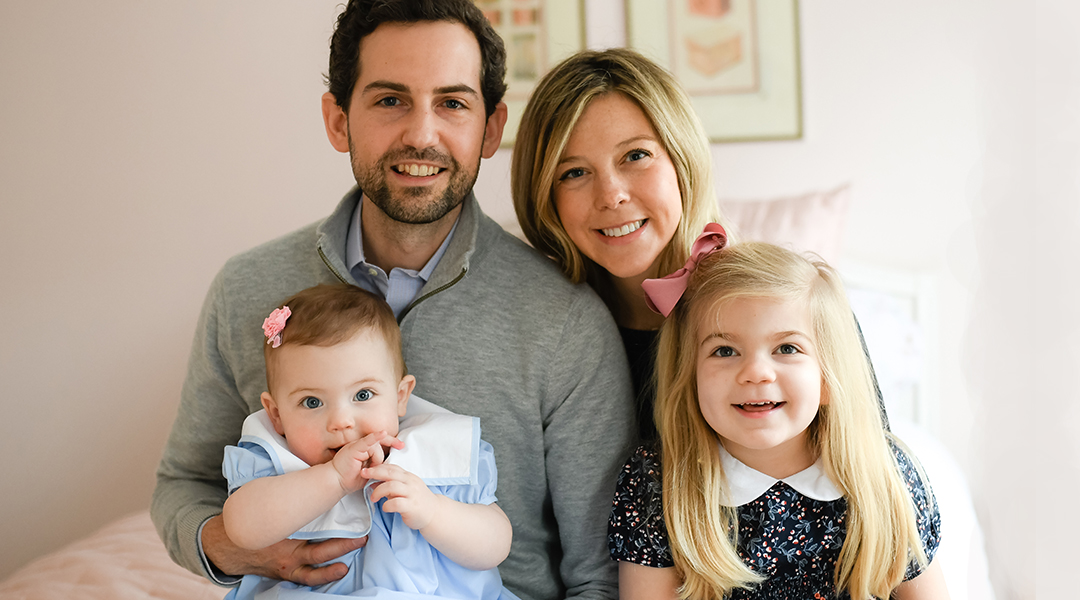 What has been going on in your family and for your child in the past year? What have been hard parts? What have been bright spots?
The past year has been an adventure! Caroline started preschool in the fall of 2020. Thankfully, our schools were able to open and stay open for the whole school year. Caroline absolutely loved her school, and it was amazing to see how she developed throughout the year. We feel so lucky to see her still progressing and cherished every art project, worksheet, and daily recap she brought home. She's excited for summer, but will be ecstatic when the school year starts again and she'll be a kindergartener!
It's been fun seeing Caroline be a big sister, too. From the day we brought Georgia Kate home at the beginning of 2020, Caroline has been head over heels in love. Truth be told, Caroline is head over heels in love with her entire family: Cousins, grandparents, aunts, uncles, and pets. They all hold a special place in her heart. That was probably the hardest part of the last year—not being able to get together with family.
What is your child like today, compared to when they were diagnosed?
Caroline was diagnosed almost 4 years ago, just after she had turned 2. At that time, she had some developmental delays that originally led us down the path of finding her diagnosis. She hadn't fallen too far behind her peers, but enough so that we could see a gap emerging. Now, the gap is more evident and seems to widen every day. Despite the amazing progress we see Caroline make, there's no escaping the reality that she's much different than typically developing kids her age. The best way to put it is that Caroline's maturity level is much lower than her chronological age.
This is hard for us to accept as parents. We desperately want to see Caroline thrive socially with her peers. As it is, though, she relates better to kids half her age since she is closer to their level in maturity. Caroline is so loving and open and vulnerable that it pains us to see her not fit in. Even more painful for us is to project out into the future and know that this is a trend that will continue. That in the not-too-distant future, Caroline's little sister will sail past her in maturity and ability. Make no mistake, this has absolutely no impact on the amount of love we have for Caroline. If anything, it makes us love her more. But it hurts and makes us hurt for Caroline.
What is one thing people would be surprised to know about living with Sanfilippo?
How physically intense it is, for the child and their family.
Caroline from a young age was clumsy and had poor balance. We were constantly concerned about her falling over or off of things, and that continues today. She doesn't have great spatial awareness to know where she is in relation to other objects, so she'll bump into things, trip over things, etc. Also, the words "gentle" and "soft" don't mean a whole lot to Caroline. She doesn't mean any harm, she just doesn't know her own strength, so we have to be careful when she's around breakable things (like Georgia Kate!).
Sanfilippo kids like Caroline are built differently, too. Their musculoskeletal systems can have abnormalities that make it difficult for them to walk, run, sit, jump, climb, throw, and perform what most people consider to be routine activities. We're always amazed at how much Caroline can do given some of her limitations. But many of the things she can do are greatly impacted by the effects of Sanfilippo, and it takes great effort for her to do things that come easily to other children. It's a credit to Caroline and her determination that she is still able to do as much as she can. We know that won't always be the case, and we treasure every walk, bike ride, and trip to the playground.
The big surprise for us, as parents, is how Caroline's diagnosis affects us physically. Because we do have to help Caroline through a lot of things, it puts demands on our bodies that we weren't expecting. This wasn't as big of a deal when she was 2 or 3 years old and weighed 25 pounds, but now that she's almost 6 and getting heavier, it takes a lot of effort! We'll often wake up in the morning and say to each other, "Why am I sore?", and then we'll remember all of the things we did with Caroline the day before and it will make sense!