On May 10, 2020 … Mother's Day in the United States … Jill Wood shaved off her lovely red hair to raise awareness and fundraise for research to cure children with Sanfilippo Syndrome, like her 13-year-old son Jonah.
Wood was inspired by a friend who needed a haircut and decided to shave his head and donate the $40 he would have spent on a haircut to Cure Sanfilippo Foundation.
She decided to make shaving her head the culmination of her GivingTuesdayNow fundraiser that she hoped would reach $3,000 for Cure Sanfilippo Foundation. 
May 10 is a difficult day for Jonah's family because it is "Diagnosis Day," as many families call it. The day, 10 years ago, when Jonah was diagnosed with a rare, terminal disease that would steal all their skills and abilities, cause pain and suffering, and then take their lives in their teens, typically.
Jonah was diagnosed with Sanfilippo Syndrome Type C, one of the rarest types, as a toddler.
In the video, Wood shared how Jonah's astute pediatrician noted his "off the charts" head circumference, a typical early-age symptom of Sanfilippo Syndrome, and sent them for an MRI which revealed more indicators.
The early diagnosis "allowed us to hit the ground running," said Wood.
First, she founded the non-profit Jonah's Just Begun Foundation to fundraise for research on Type C. Then she founded Phoenix Nest Inc., a biotech focused on bringing about the clinical trial for Type C.
Today, the clinical trial is closer than ever to happening.
During the live video, Wood shared that pre-clincial research required for the trial to happen continues during the COVID-19 pandemic because it is considered essential. Right now, a dosage study requested by the U.S. Food And Drug Administration (FDA) is underway.
Wood answered live questions from viewers while her husband Jeremy carefully buzzed off her red locks. Questions such as, "Why does it cost millions to run a trial and treat so few kids?" and "Does Sanfilippo cause seizures?"
An occasional "Oh my God!" punctuated pauses in Wood's discussion of Sanfilippo Syndrome and the journey to make the clinical trial happen as her red locks drifted to the ground.
Wood successfully surpassed her $3,000 GivingTuesdayNow fundraiser goal and has her eyes on the $600,000 needed for the next stages for the trial.
Her transformation was met with praise for her bravery and her ability to rock the look. (And we totally agree!)
"Thank you so much … Our kids can make it… If not for our kids, then for the next generation," said Wood to close the live video. "No parent should ever have to be told their child has a terminal illness and there's nothing you can do about it. Because there is something you can do about it. You can fight. You can fight their fate. You can fight the next generation of children's fate. We can get newborn screening on the table. There is so much that we can do to save our children."
Before & After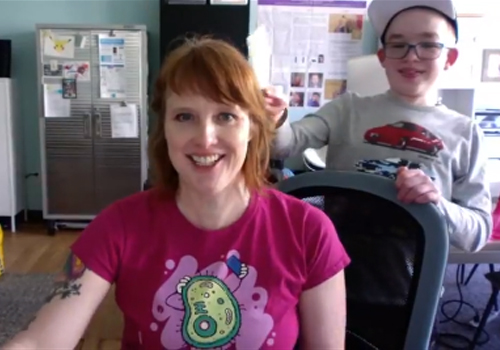 Before the clippers came out, Jonah lovingly combed his mom's red locks.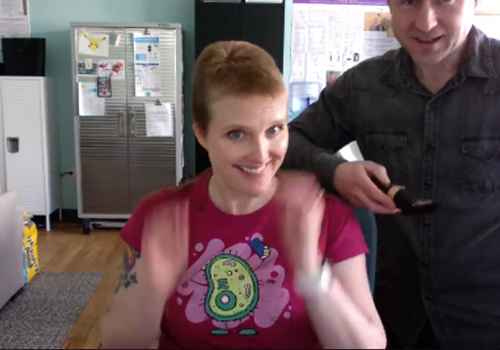 Jill and her husband (and barber) Jeremy pause to take in the results.