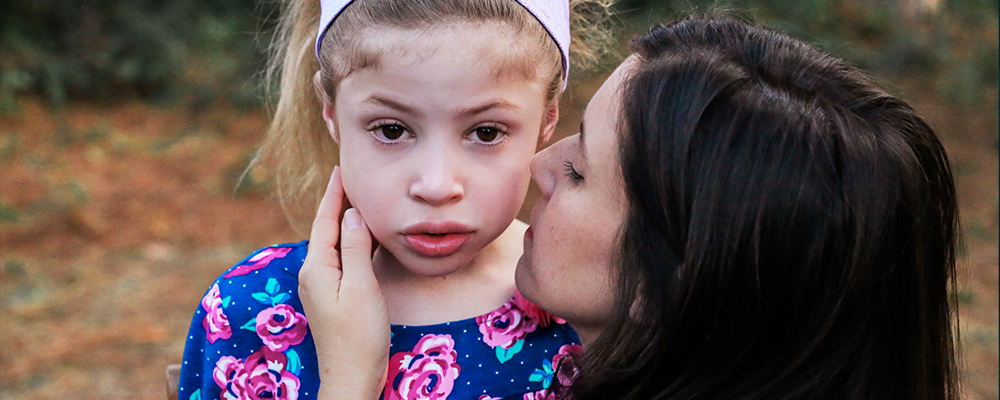 "What do we have to loose? What is 'meaningful benefit'? How do we accelerate things?' These are all questions that Dr. Cara O'Neill, Chief Science Officer and co-founder of Cure Sanfilippo Foundation, has asked herself over the past six years. And she explored each of them during a powerful guest appearance on the Jan. 28 episode of the Mendelspod podcast.
Mendelspod is an engaging, thoughtful thirty minute-shows on highly relevant topics to those working around the life sciences. Its audience of largely researchers get to hear scientists who are leaders in their field and CEOs of high-growth companies explore trends and the latest technologies. Listeners have a front row seat to the revolution going on in biology, putting a human face on some complicated, highly-technical topics.
Her daughter's diagnosis changed the trajectory of the entire family's life.
Dr. Cara O'Neill, FAAP, was a practicing pediatrician in South Carolina prior to her daughter Eliza being diagnosed with Sanfilippo Syndrome Type A in 2013.
After "picking ourselves up off the ground. We tried to stand up and realize what is going to happen," shared O'Neill.
She and her husband Glenn O'Neill, co-founder of Cure Sanfilippo Foundation, decided to take matters into their own hands. To link up with scientists to speed up research on Sanfilippo Syndrome.
"You are racing trying to find some way to tunnel out from what you've been told."
Falling back on her background, O'Neill went to the medical and scientific literature. She looked for people working in the field and specifically sought translational research that was close to trial.
She found the work of Dr. Haiyan Fu in gene therapy for Sanfilippo Syndrome that was nearing trial because of the support of other parents and foundations. O'Neill reached out to Fu to learn more and how they could help.
"I remember sitting on the floor of the office, scribbling notes." After hanging up, she told Glenn, "'This is it… This is our hope.' as a possibility of a cure because of the pre-clinical studies and response in mouse models."
Breaking through with a viral video
The hardship with the promising gene therapy clinical trial was the $2 million in funding needed for it to happen.
Dedicated to accelebating the pace of research for Sanfilippo, the O'Neill sought ways to help fundraise. One of which was a creating a viral video.
Sharing the interesting way the viral video came about – which was created by Benjamin Von Wong, who volunteered his time and talents – O'Neill noted, "When you share your story, people come out of the woodwork to share their talents and skills [to help].
"What have we got to loose?" thought Cara and Glenn when Von Wong volunteered to make the video, all while staying at the O'Neill's house, sleeping on the couch, for a week.
The viral video is "one of many amazing and remarkable things that have happened, in hindsight. In the moment, it was quite a whirlwind."
O'Neill shares that prior to Eliza's diagnosis, the fundraising, and the viral video, she and her husband had been very private people. Stepping into a very visible position was something uncomfortable for them, she admits, but "desperate times call for desperate measures." And their goal was
Their efforts to raise more money for the cause has always been driven by the mission to accelerate the science.
The viral video, Saving Eliza, succeeded in raising more than $2.1 million to help fund the clinical trial. Eliza was the first patient to receive the gene therapy.
On a mission to accelerate for all
It has been a "steep learning curve in the years since" then, said O'Neill. She now lives in the world of basic and translational science, rather than the "clinic world" of treating patients as a pediatricians.
Cure Sanfilippo Foundation puts "a laser focus on Sanfilippo Syndrome and accelerate the pace of research for it."
Cure Sanfilippo was "never a personal foundation," O'Neill said. The mission of the Foundation has always been and remains to "move things forward for our child and every other child with Sanfilippo Syndrome."
Cure Sanfilippo Foundation is about "funding research and engaging families from the around the world." And O'Neill marvels at how the Foundation has grown since 2013.
Foundation's ability to evaluate science from unique perspective
Because of O'Neill's personal and professional experience, she provides a rare unified perspective to evaluating and supporting research on Sanfilippo Syndrome.
Ultimately, she is the bridges that unifies the caregiver and patient community with the scientific community. Her perspective and experience allows her to uniquely weigh aspects of research, along with the support of the Foundation's Scientific Advisory Board's expertise in basic and translational research.
The enables the Foundation to fund research that addresses gaps. To look at what is "most translational" because time is of utmost importance because children with Sanfilippo Syndrome. Kids with neurodegenerative diseases can't wait, said O'Neill.
What Lies Ahead for Cure Sanfilippo Foundation
The Foundation aims to get more clinical trials up and running, to give more patients access to a variety of programs.
Among the top initiatives on the Foundation's radar are regenerative medicine that could provide patient even more than enzyme restoration, to address quality of life for patients, and drug discovery.
O'Neill is also investigating combinations of therapies, which isn't being tried at this point. A combination of therapies "could be where we need to go to properly address this disease over the patients' life span."
Beyond simply funding research
Cure Sanfilippo Foundation engages with industry partners and other foundation to address gaps in the therapeutic development process that it has identified.
In particular, the Foundation is leading a research study to understand what caregivers of children with Sanfilippo Syndrome define as meaningful benefit. To discover what potential treatment benefits they would deem beneficial for their child, which may not be total restoration of cognitive abilities. It might be the ability to for the child to ambulate longer, to not have seizures or movement disorders, or to sleep through the night comfortably, explained O'Neill.
All trials at this point focus on the cognitive decline, pointed out O'Neill. She is helping guide development of other end points. Developing novel endpoint will allow more treatments to come forward because the affect of treatments can be better measured.