2023 "Cure Sanfilippo For Oliver's Tomorrow" Progressive Euchre Tournament | Nov. 17, 2023 – Columbus, OH
November 17 @ 7:00 pm

-

10:00 pm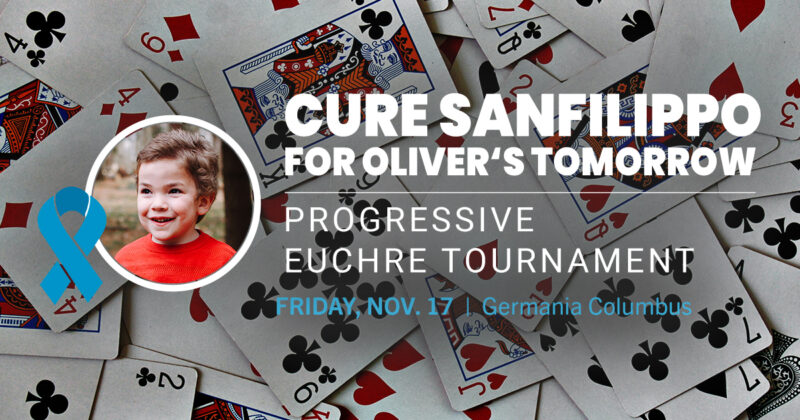 An evening of cards that gives back. The 2023 "Cure Sanfilippo For Oliver's Tomorrow" Progressive Euchre Tournament on Friday, Nov. 17.
Enjoy a progressive euchre tournament at the lively Germania Columbus, while also helping a local family and others who have children with Sanfilippo Syndrome. Doors open at 6:30 p.m. and play is from 7:00-10:00 p.m. Enjoy a fun night or cards, cash bar, and door prizes.
Sanfilippo Syndrome is a terminal, neurodegenerative disease that causes children to lose all the skills they've gained. These children suffer seizures and movement disorders, experience pain and suffering, and then die in their teens. Currently, there is no FDA-approved treatment or cure.
Your participation in this event helps fund research to find a treatment or cure for children with Sanfilippo Syndrome like Columbus native Oliver Kelly and his family. The Kelly family and their supporters have been relentlessly fundraising to advance critical research for a cure for several years.
Proceeds of the event benefit Cure Sanfilippo Foundation, the nation's largest non-profit for Sanfilippo Syndrome. The Foundation funded more than 50 research projects, including three clinical trials treating more than 40 children. Its mission is to advocate for and fund research directed towards a cure and treatment options for patients with Sanfilippo Syndrome. Much of the Foundation's work to reach that goal benefits a range of other diseases. Learn more about Sanfilippo Syndrome and the Foundation at CureSanfilippoFoundation.org.