We are so thankful for the many families who continue hosting events and fundraisers to support critical research — especially early, novel and translational research — that the Foundation funds, in addition to clinical trials.
Here are several fundraisers that have taken place late summer and early autumn.
Drive to Cure Carson Golf Tournament
At the 6th annual Drive to Cure Carson Golf Tournament, players enjoyed 18 holes of golf with cart on The Falls Golf Club's beautifully-conditioned zoysia fairways, bentgrass approaches. Every player's participation has helped accelerate research to cure Sanfilippo Syndrome. The Burroughs family and their supporters have been relentlessly fundraising to advance critical research for a cure for several years. Thank you to the golfers, sponsors, volunteers, and family/friends of Carson for coming out in support of this urgent need.
Photo credit: the Burroughs Family
Sadiepalooza 2023
Sadiepalooza was a night of family-friendly fun included a dinner, more than 250 live and silent auction items, and entertainment for kids, with proceeds benefiting Cure Sanfilippo Foundation. A highlight of the event was the diversity of kids in attendance. Sadie's family has built a personal network of neurodivergent kids and greatly enjoyed seeing them mingling with the neurotypical children and being accepted and included.
The event was made possible because of the wonderful Haywood family, its team of volunteers, more than 300 attendees and supporters, and generous event sponsors.
Sadiepalooza 2023 raised more than $70,000. And Sadie's family plans to host Sadiepalooza again in 2025.
Photo credit: Samantha Lamonds Photography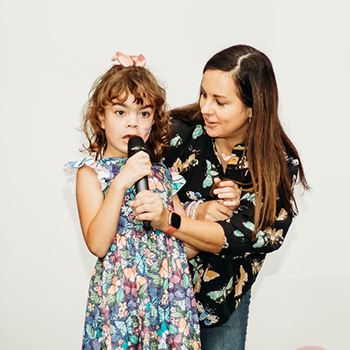 Support "Ryler Strong" at Ocosta Jr/Sr High School Football Game
The Ocosta Junior/Senior High School football team hosted the family of Ryler Strong at its Sept. 29 game against North Beach. Ryler's dad, Justin, is an alumni of Ocosta Junior/Senior High School.
The community showed up big, filling the fun night with laughter, joy and a big win for Ocosta and the Battle of the Beaches. Thank you to the Strong family, everyone who helped with the event, and those who kindly showed up and donated to support Sanfilippo research. A highlight of the night was the North Beach Football team and coaches and the referees for joining in support of this event.
Photo credit: Nicole Matthews
Porcaro Family Foundation's 6th Annual Golf Tournament
The Porcaro Family Charities generously chose that this year's annual golf outing in August would benefit Olivia "Liv" Stoop and Cure Sanfilippo Foundation. Each year, the event sells out as golfers rally to support a local cause. This year's event generated $15,000 in support of the Foundation, which pushed the "Saving Liv" campaign over the $400,000 mark.
Thank to the Stoop family, the Porcaro family and the golfers, sponsors, donors, volunteers, silent auction participants, and Meadowbrook Country Club for their contributions and generosity.
Photo credit: Porcaro Family Foundation on Facebook