Hear directly from the Nevins family – Parents Shannon and Jerad, Nathan (age 7, Type A), and sister Kennedy!
Awareness is a huge part of fighting Sanfilippo Syndrome. With awareness comes caring and understanding, which can lead to support and donations for research that can give children with Sanfilippo more good days.
"Family Friday" are a way families and the Foundation help spread awareness, by sharing a window into their family's life. A window that builds understanding and visibility of life with Sanfilippo, the difficult and the uplifting, and everything in between.
This week, we are honored to share the insights and personal perspective of Nathan's family. Nathan is 7 and was diagnosed January 2020.
What is a "life with Sanfilippo" hack that you use all the time?
For our family, there is no "Sanfilippo Hack" or cheat code that comes with this diagnosis. If there is one thing that we have learned or a way we approach our daily lives, it is learning to adapt on the fly. We approach each day with the willingness to adjust to what might be needed.
Another piece of the Sanfilippo puzzle is ensuring that we surround ourselves with a strong support system. We ensure that our friends, family, and co-workers are aware of Nathan. We spread awareness of this disease and share the way that he shines light in such a dark situation. As a family, we make sure that each of us fills our cups with what we need, so that we may provide everything we can to Nathan.
What is your day-to-day life like and how does it differ from a family that doesn't have a child with Sanfilippo? How is it also the same?
Our day-to-day life with Nathan is very routine. He is a creature of habit, and this often keeps him on track and his mind sharp. Nathan teaches us the simplicity of life. He often reminds us that things do not have to be complicated to create happiness. He is overjoyed by spending time with the people he loves, watching Disney movies, and eating snacks. We incorporate each of these aspects into his routine throughout the day.
We also keep Nathan in school full time. He is entering 2nd grade this year. He wakes up early, laughing and squeaking to inform us that he is ready to go. He happily (and sometimes begrudgingly) walks into school and starts his day with a hug from the teacher. He is provided multiple therapies, including speech, physical therapy, and occupational therapy. Over the summer, his teacher was able to re-introduce eating with a fork. This was a huge win for us! With Nathan, we celebrate all the small wins as big successes.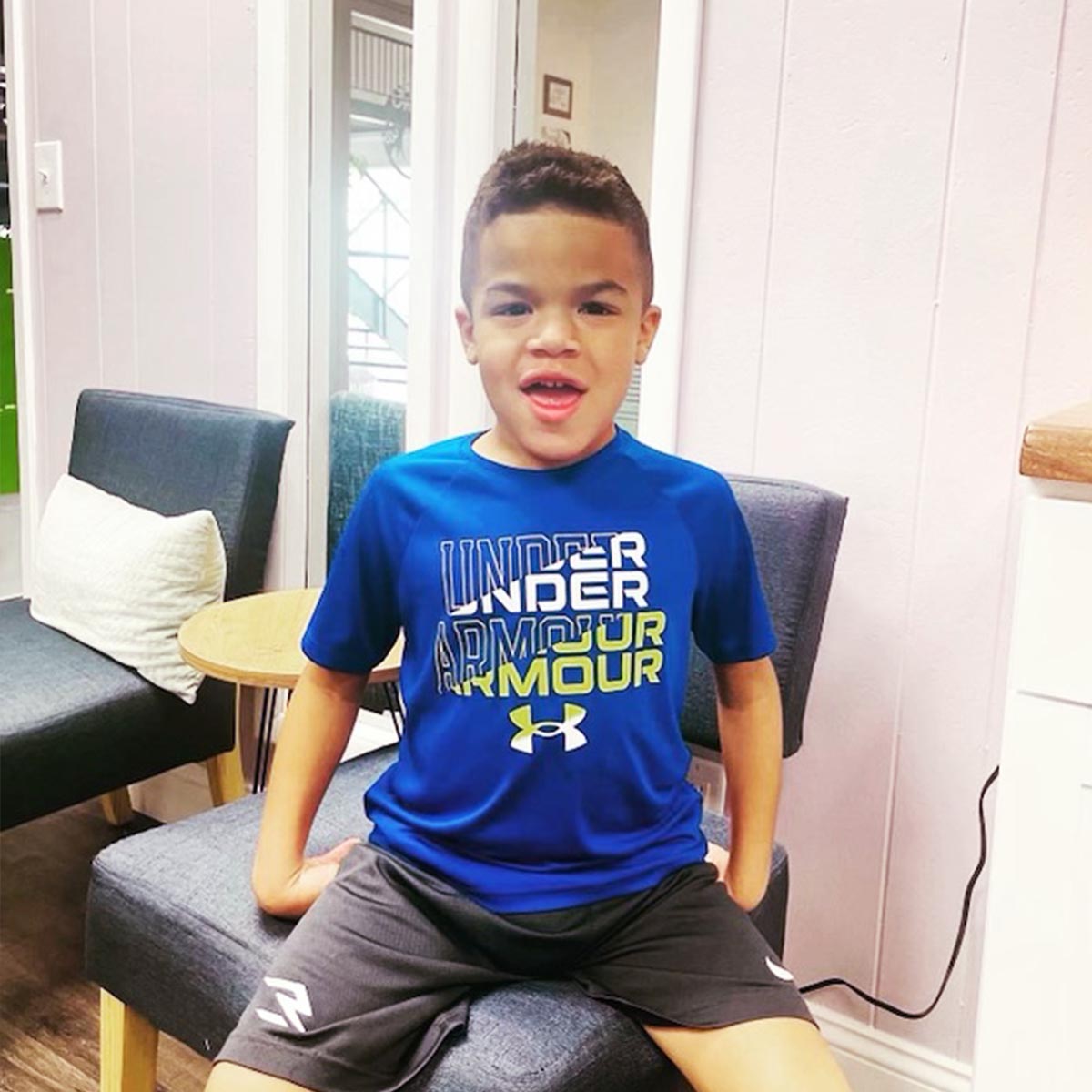 What drove you to get your child/children diagnosed? And what was the diagnosis journey like?
Nathan was just like any other 2-year-old, meeting milestones and even excelling at some points. However, one thing that really stuck out to us was his lack of speech development. Many times, he would say words, but never repeat them.
We decided to enroll him in daycare for increased socialization. However, after three days the daycare director called us to inform us that they could not provide care for Nathan. He was unable to calm down after we dropped him off, he was not playing with toys, and he never interacted with the other children.
Our fears that something was wrong were solidified by their concerns.
We reached out to our pediatrician for a referral to the Thompson Center for an Autism screening. After a long day of testing and discussions, he was diagnosed with Autism and sensory processing disorder. The nurse entered the room and asked us if we wanted to do genetic testing to find the origin of the diagnosis. At first, we refused, believing in our hearts that it did not matter, but that we had our answer to move forward. After some discussion, and being in the medical field, we decided that it might help other families to pursue the option.
After a few weeks, we received a phone call that we needed to be seen by the genetics team in Columbia in a matter of days. Our hearts sank knowing that there could be more to the story. In fact, the team was so compassionate and on January 21st, 2020, they informed us that testing confirmed a Sanfilippo diagnosis. They gave us hope that many trials were being funded and Nathan have hope to live beyond the terminal diagnosis.
Our journey has ebbed and flowed through the past three years. But ultimately, we know that Nathan is a blessing. He has taught us patience, kindness, inclusivity and, most of all, love. We cherish every day with him. Having met him will change your life for the better. We always say, "This is Nathan's world, we are just living in it."
Learn more about Nathan and his family: