Hear directly from the Jamison family – Parents John and Courtney, Harper (age 4, Type A), and sister Kianna!
Awareness is a huge part of fighting Sanfilippo Syndrome. With awareness comes caring and understanding, which can lead to support and donations for research that can give children with Sanfilippo more good days.
"Family Friday" are a way families and the Foundation help spread awareness, by sharing a window into their family's life. A window that builds understanding and visibility of life with Sanfilippo, the difficult and the uplifting, and everything in between.
This week, we are honored to share the insights and personal perspective of Harper's family. Harper is 4 and was diagnosed March 2023.
What is a "life with Sanfilippo" hack that you use all the time?
Helping Harper relax and reset is pretty important. This usually included tablet time and rest. She has just recently started using her tablet, which has helped a lot with outbursts and emotional breakdowns. She doesn't know how to express her feelings all the time so we try to calm her and giving her the tablet seems to bring her back to being calm so she can communicate with us better.
What is your day-to-day life like and how does it differ from a family that doesn't have a child with Sanfilippo? How is it also the same?
Harper is 4 years old and was diagnosed four months ago. Her sister is almost 2 years old. Harper has continued to progress in speech and development.
Currently our day-to-day life looks a lot like others who have toddlers. We do plan our days around Harper, meaning we try not to overstimulate her too much and make sure she has time to rest or nap to help reset. We also try to make sure wherever we go is safe as Harper tends to fall a lot.
She has gotten a little aggressive since I don't think she knows her own strength, so we keep an extra close eye on her when she is interacting with other kids. We continue to engage Harper in new activities and have been making the best of the warm weather just like other families.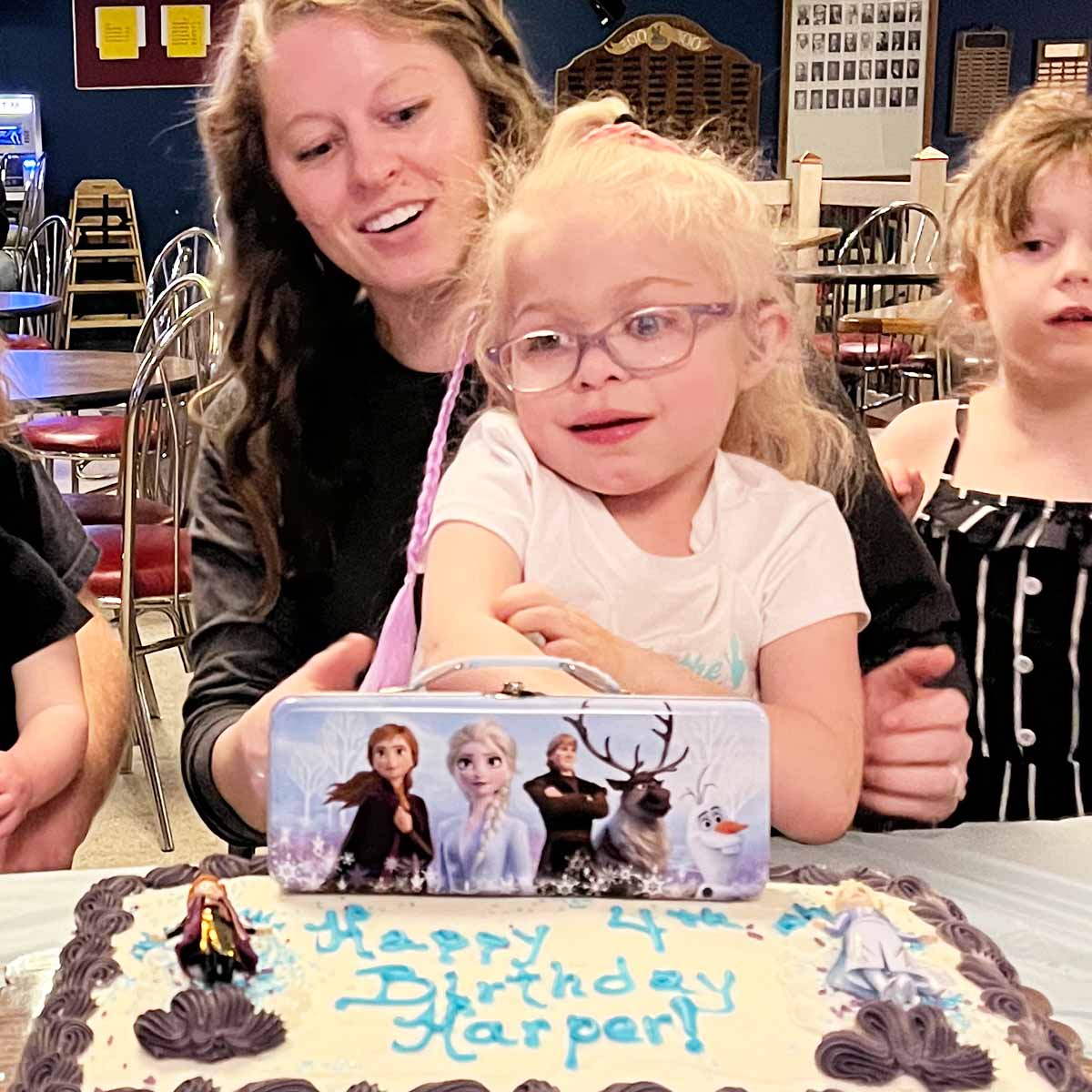 What drove you to get your child/children diagnosed? And what was the diagnosis journey like?
Since Harper was a baby, she has been on a medical journey. From chronic respiratory and ear infections to being tested for Cystic Fibrosis and Retinoblastoma. She had her left eye removed and now has a prosthesis. She was also diagnosed with mild-moderate hearing loss and now wears bilateral hearing aids.
On Christmas Eve 2022, we ran across a TikTok video of a little girl who looked just like Harper. Her mom was going through the signs and symptoms that led to her being diagnosed with Sanfilippo Syndrome.
After years of so many unanswered medical and behavioral questions, I knew from this video that this is what Harper had.
We immediately started seeing more specialists and got Harper tested. It was a long four-month journey. On March 28, 2023, we got the call from Harpers Geneticist with Harper's official diagnosis of Sanfilippo Syndrome.
We were crushed. At this point we hadn't really told anyone what was going on. We had only told close friends and family the week prior to diagnosis that Harper had even been going through the testing for Sanfilippo Syndrome. I think we thought that if we didn't tell anyone, then it wouldn't be true.
Learn more about Harper and her family: