Hear directly from the Stoop family – Tyler, Erin, Olivia, and Liam!
Awareness is a huge part of fighting Sanfilippo Syndrome. With awareness comes caring and understanding, which can lead to support and donations for research that can give children with Sanfilippo more good days.
"Family Friday" are a way families and the Foundation help spread awareness, by sharing a window into their family's life. A window that builds understanding and visibility of life with Sanfilippo, the difficult and the uplifting, and everything in between.
This week, we are honored to share the insights and personal perspective of the Stoop family. They live in Wisconsin and Olivia is 3. She was diagnosed with Sanfilippo Type A in March 2022.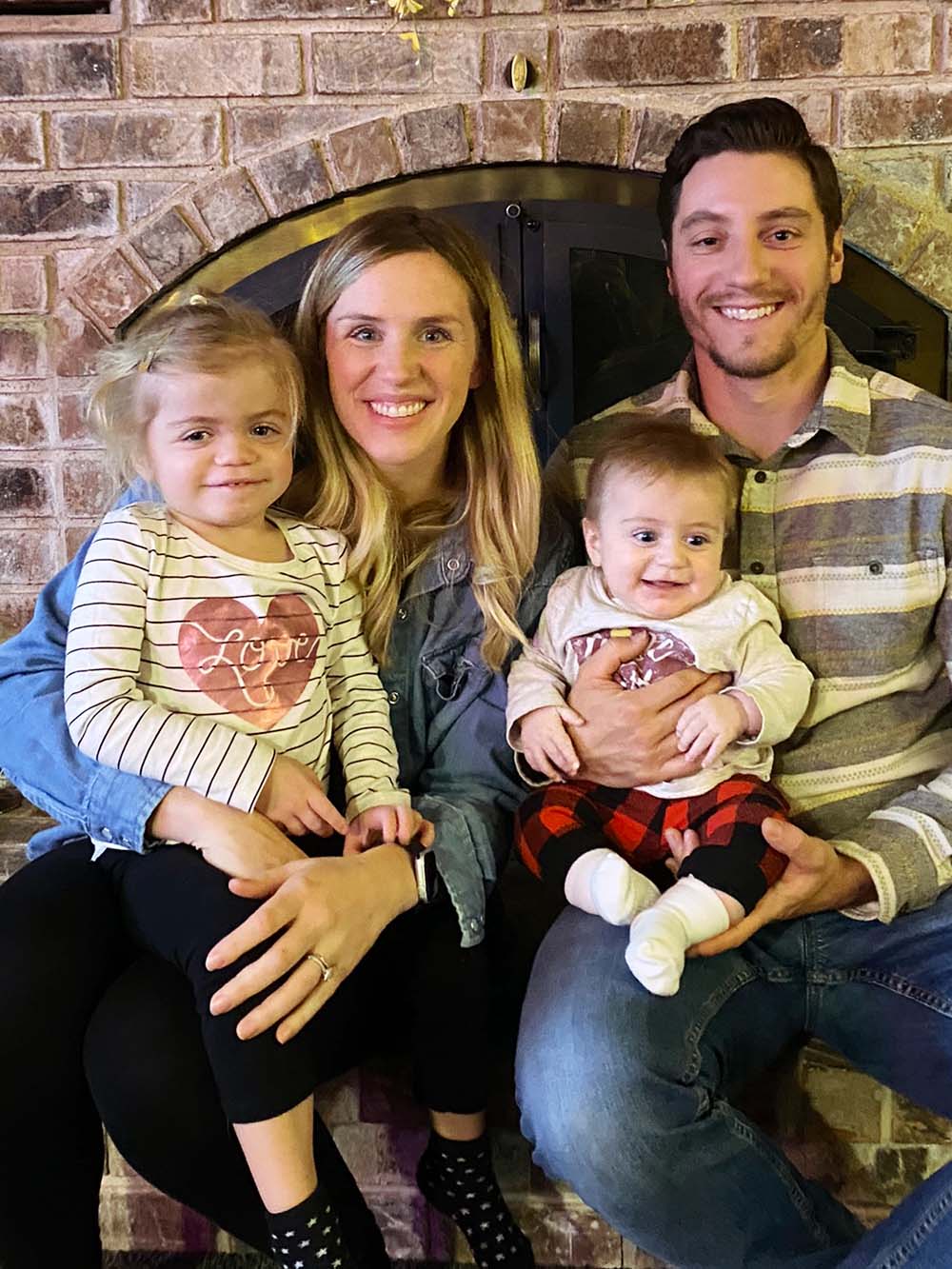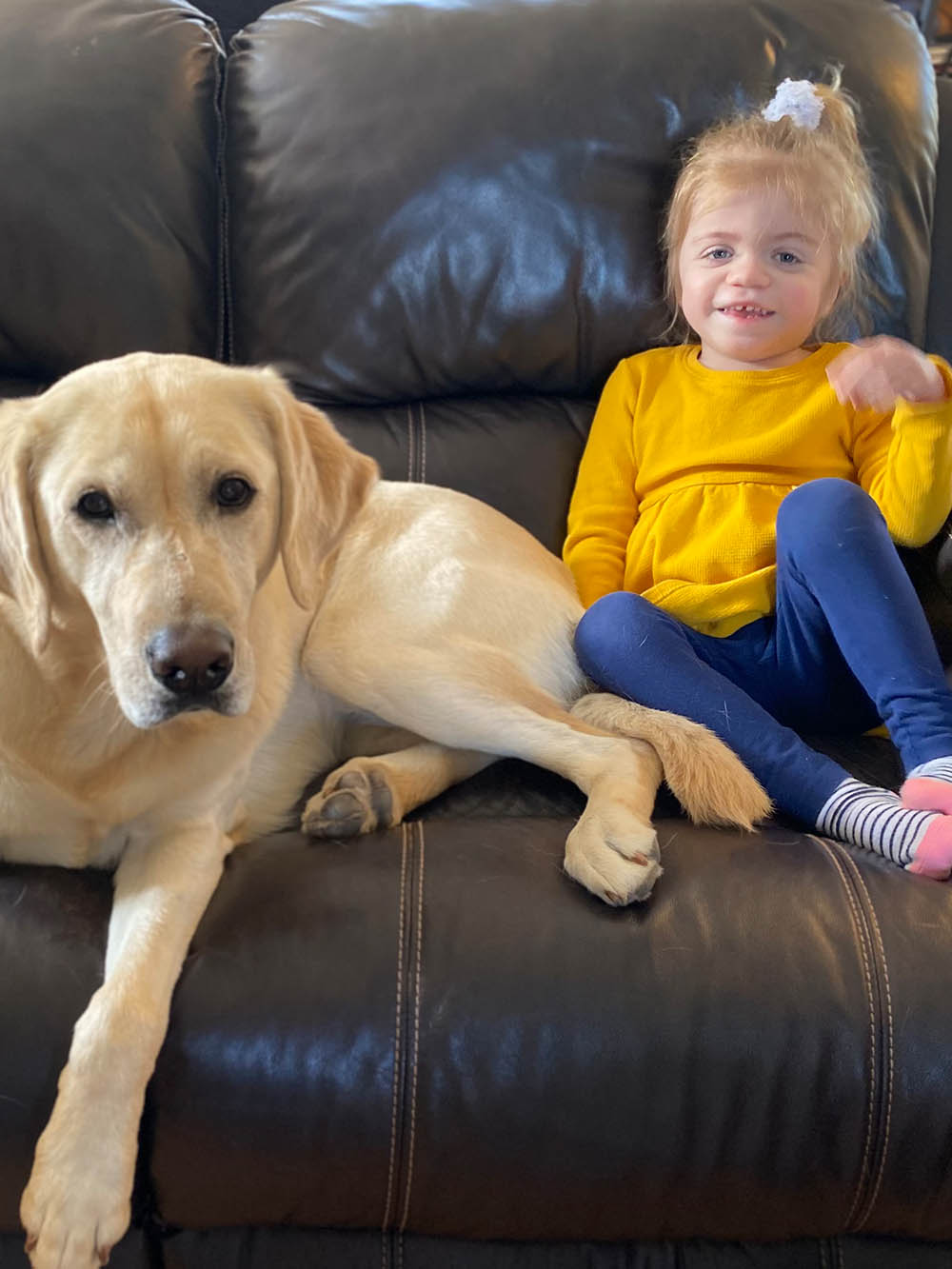 What is a "life with Sanfilippo" hack that you use all the time?
The TV/iPad. Liv LOVES Dora the Explorer, CocoMelon and Daniel Tiger. So, if we need her to stay still while getting her hair done in the morning, when she's not feeling good, or anytime Tyler and I just need a mental break, we let Liv watch her favorite show. She gets in a zone and stays still. We also reintroduced her pacifier for naps and bedtime, shortly after diagnosis. It comforts her incredibly, and our nighttime routine has gotten less stressful.
What is your day-to-day life like and how does it differ from a family that doesn't have a child with Sanfilippo? How is it also the same?
We have two young kids, Liv (3), and Liam who turns 1 in May. I assume our day-to-day hectic life is very similar to your average young family. Hectic morning routines, shuffling off to daycare, cleaning up after tornados, lots of diaper changes and meltdowns, and praying for a quick bedtime routine and "full" night sleep!
After work, instead of shuffling Liv to dance class or gymnastics, we typically spend time closer to home, as Liv doesn't do well in group settings with lots of unfamiliar kids. She also spends time weekly at therapy and doctor visits, so we don't want to overwhelm her (and Tyler and I, if I'm being honest) with too many "extracurricular activities."
She loves a good stroller walk to the park. She's clumsy and struggles with climbing stairs, so we definitely have to be the "helicopter" parent at the park. But she's happy there, so are we. We have also learned routine is key for Liv!
What drove you to get your child/children diagnosed? And what was the diagnosis journey like?
Liv was diagnosed March 2022, when she was just over the age of two. Honestly, we didn't have many behavioral things yet (she was still a good sleeper, hyperactivity wasn't present, and speech was only just a little behind). Our biggest issue was GI.
Liv had very frequent, loose stools and a distended stomach. Our work up was approximately four months and started with our pediatrician ordering stool samples and labs, followed by seeing the GI provider. She was first diagnosed with constipation (with overflow diarrhea). But after pushback from Tyler and me, the GI doctor ordered an abdominal x-ray and then ultrasound which showed the enlarged liver. More labs showed elevated liver enzymes, and then the GI provider asked us to see the geneticist.
Randomly, before our geneticist appointment, a family friend reached out and said she thought Olivia had a lysosomal storage disorder. We had never heard of that family of disorders, and our first reaction was that it sounded "treatable" based on the name.
A few google searches, a lot of picture comparisons, and a lot of sleepless nights later, we knew she had one, we just didn't know which one.
I remember seeing Sanfilippo Syndrome on my search before seeing the geneticist. I think I bypassed it initially because of all the behavioral things that Wikipedia highlighted as prominent parts of the disease. And because it looked the worst and I didn't even want my mind to go there.
The day we got the call, and heard those words, we felt like our world had shattered. All of our dreams for her flew out the window, and we were in a bad nightmare we couldn't wake up from. Since diagnosis, our community has embraced us, our family has stepped in to help. Cure Sanfilippo Foundation has provided us with so many helpful resources. And the online community of Sanfilippo parents has been the light in our dark time.
Learn more about Olivia and her family: