Lemonade stands are a hallmark of childhood summers
Lemonade stands are a great opportunity for kids to experience entrepreneurship, hands-on experience with money, and a bit of sales and marketing. All right in their neighborhood.
Maybe your kids, grandkids, or students are interested in having a lemonade stand this summer. Perfect! Make use of this free guide we created, full of helpful tips to ensure they have a great experience.
Download the "How to Help Kids Host a Successful Lemonade Stand" guide for a wealth of best practices.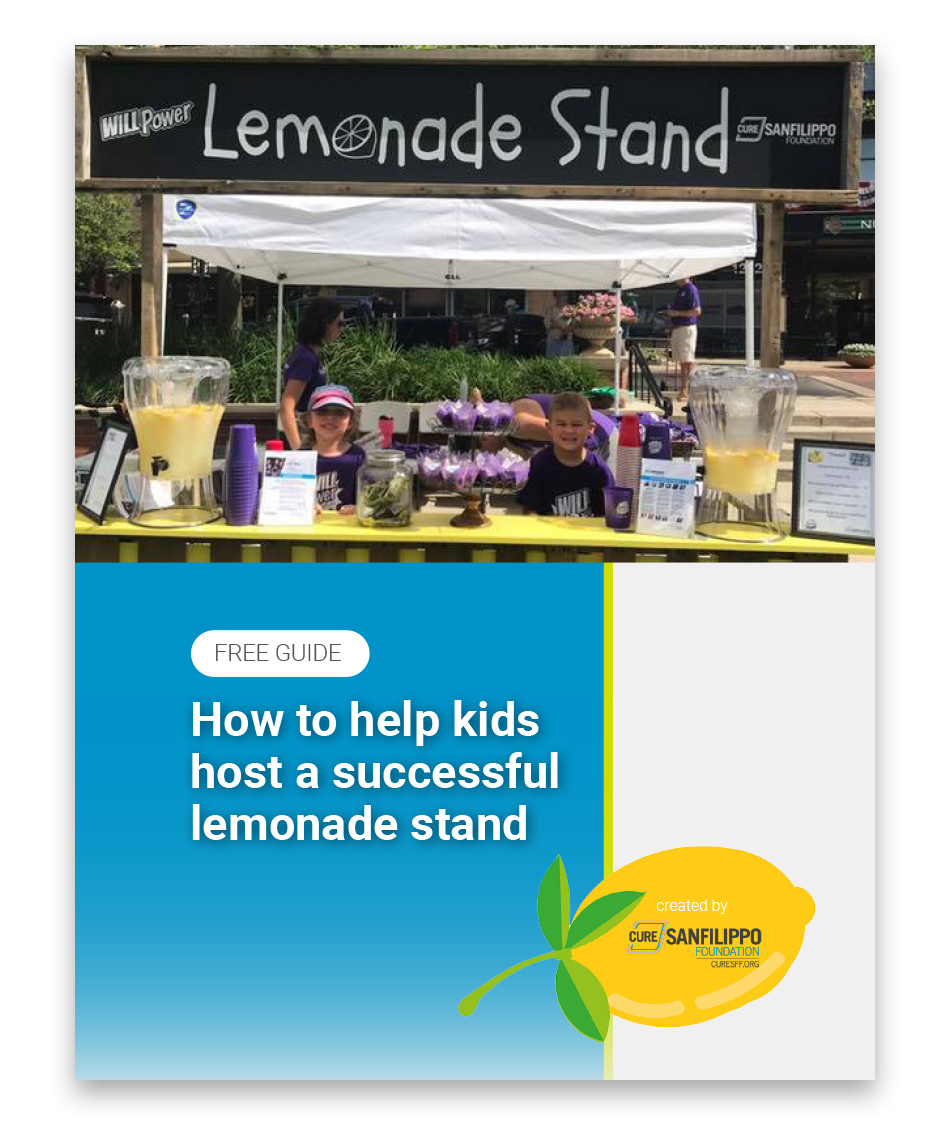 Inside the guide you'll find all kinds of tips about hosting a successful lemonade stand, such as advice on signs, location, and supplies. And a few things you might not have known to plan for.
Plus, an easy and delicious lemonade recipe that will make your lemonade stand the summer hit of the neighborhood.
Our guide was developed by the experiences of our staff and partner-families hosting lemonade stands as fundraisers. This guide represents the learnings from more than 100 lemonade stands around the country.
We hope these tips for a lemonade stand help you have an enjoyable experience.
A great way to put those tips for a lemonade stand into action
If you'd like to put some of these tips to use, consider being a part of the Foundation's annual Sale2Save!
People around the country are hosting lemonade stands (and yard sales) to help fund research to cure Sanfilippo while also clearing out their garages and letting the kids have a blast.
About Sanfilippo Syndrome
Sanfilippo Syndrome is a terminal, neurodegenerative disease that causes children to lose all the skills they've gained, suffer seizures and movement disorders, experience pain and suffering, and then die. It is like Alzheimer's, but in children.
Sanfilippo Syndrome is caused by a single gene defect which leads to lack of a necessary enzyme in the body. This lack of enzyme results in the build-up of toxic storage in every cell, and is especially harmful to the brain. This build-up causes a cascade of detrimental effects and ultimately death.
Currently there is no FDA-approved treatment or cure for Sanfilippo Syndrome. Cure Sanfilippo Foundation is working to accelerate discovery of a treatment or cure.
Learn more about Sanfilippo, including the symptoms and how to get diagnosed.