Dr. Fraldi and his team at TIGEM (Telethon Institute of Genetics and Medicine) in Italy have been working to identify a new treatment strategy for neurodegenerative lysosomal storage diseases. Cure Sanfilippo Foundation has supported this study thanks to the support of its amazing donors and partner families.
The findings were recently published on ScienceDirect.com, a website which hosting various peer-reviewed journals, e-books, and more.
Dr. Fraldi's findings were published the article, "The Amyloid Inhibitor CLR01 Relieves Autophagy and Ameliorates Neuropathology in a Severe Lysosomal Storage Disease," about CLR01 as new potent drug candidate for MPS IIIA.
"Here, we studied amyloidogenic protein aggregation in the brain of mice with MPS-IIIA, one the most common and severe types of neurodegenerative LSDs, and found that neuronal cell bodies provide a major site for progressive deposition of multiple amyloid proteins including a-synuclein, prion protein (PrP), Tau, and amyloid-b protein (Ab). Importantly, we demonstrated that preventing amyloid aggregation by using a broad-spectrum inhibitor of amyloid self assembly CLR01 protected against neurodegeneration in MSP-IIIA mice, thus identifying a new attractive therapeutic strategy for MPS-IIIA and likely for other LSDs."
"Together, these data provide evidence that brain deposition of amyloid proteins plays a gain of neurotoxic function in a severe LSD by affecting the ALP and identify CLR01 as new potent drug candidate for MPS-IIIA and likely for other LSDs."
"Looking at Sanfilippo Syndrome, and all Lysosomal Storage Diseases, from all angles is something really important," said Dr. Cara O'Neill, Chief Science Officer of Cure Sanfilippo Foundation. "This is why Cure Sanfilippo Foundation supports study into a wide variety of approaches. Combination therapies targeting different molecular pathways and body systems are likely to be needed."
Read the full publication at this open access link.
Learn more about research projects supported by Cure Sanfilippo Foundation.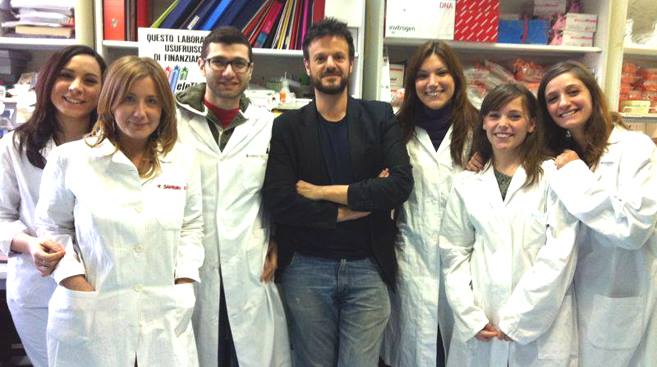 A photo of Dr. Fraldi and his team at TIGEM