For the third year, the Byers family has lead the WILLPower marathon and fundraising team to great heights at the 2020 The Woodlands Marathon, including a first-place finish the Charity Challenge.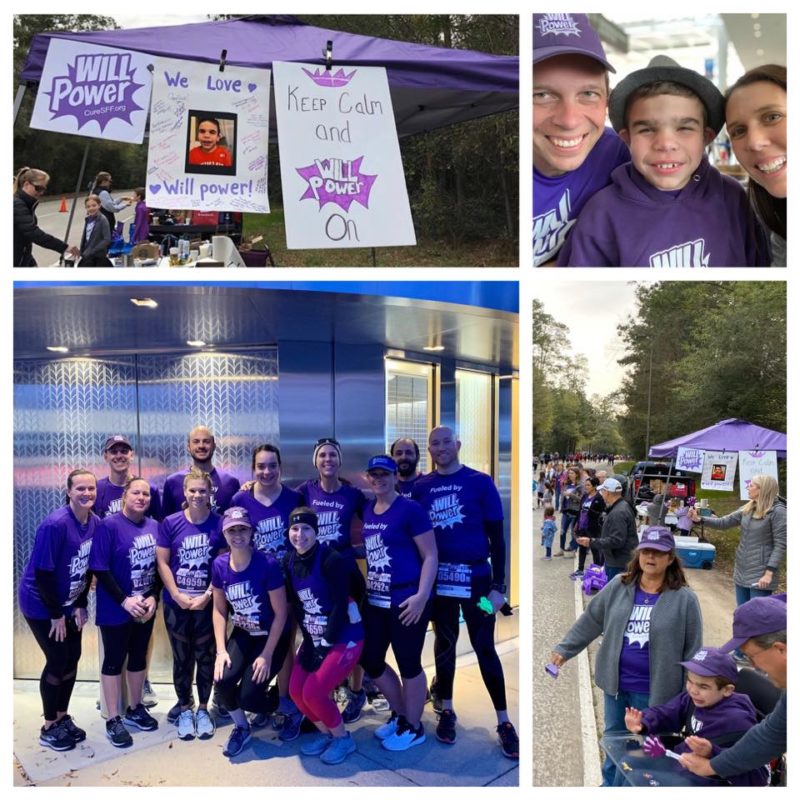 The Byers family has running in their blood, each one of them loving to run, including 9-year-old Will, who has Sanfilippo Syndrome Type B. So taking on The Woodlands Marathon and using it as an annual opportunity to also raise awareness of and fundraise for Sanfilippo makes perfect sense for the Byers. 
Team WILLPower has won the 2020 The Woodlands Marathon Charity Challenge. For the third straight year! Additionally, Will was the top individual fundraiser overall. And eight people on Team WILLPower finished in the top 20 of fundraisers. Altogether, that earned Cure Sanfilippo Foundation a $5,000 bonus from the 2020 The Woodlands Marathon Charity Challenge.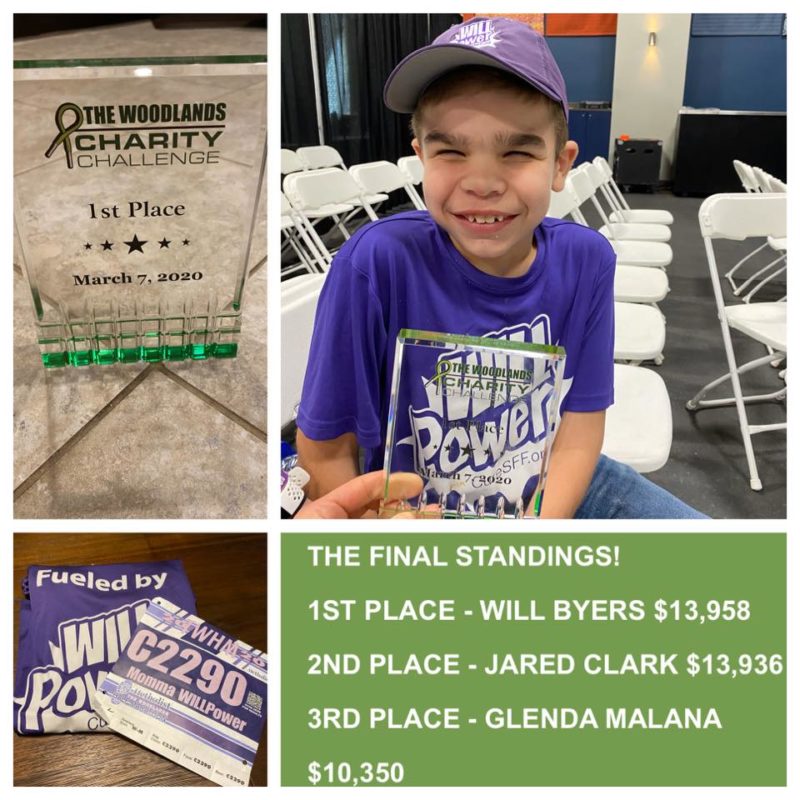 Will's first-place finish came down to the final minutes, with him securing the lead by only handful of dollars. 
"When I tell you that EVERY dollar donated in this Challenge matters, I mean it," said Valerie Byers, Will's mom. "Look at that slim margin between 1st and 2nd…this competition gets fierce in the last minutes and we were able to hold strong thanks to all of you!"
The family also participated in the 2020 The Woodlands Marathon races. Valerie laced up for the half marathon. Will and his dad Tim completed the 5K Kids Fun Run with other WILLPower Team members. And Will's younger sister Samantha was commander of the WILL Power Cheer Tent along the marathon route, inspiring the runners to keep going.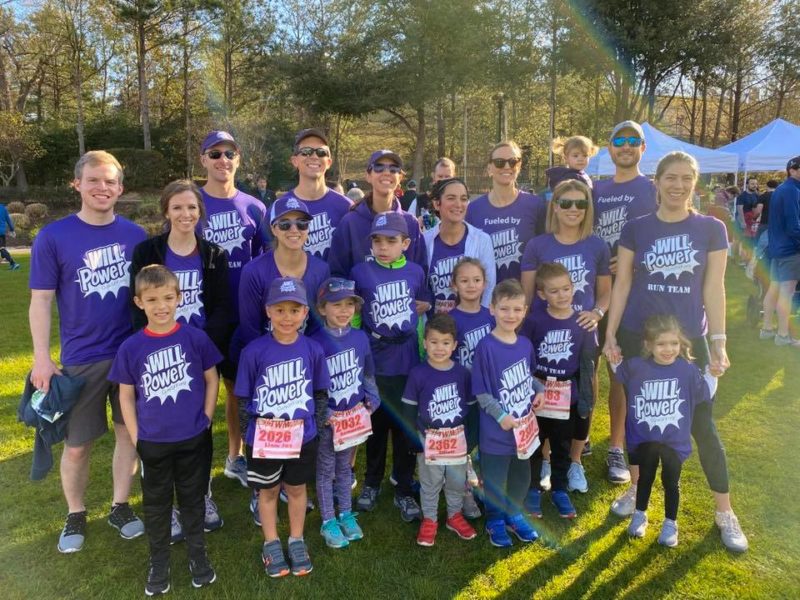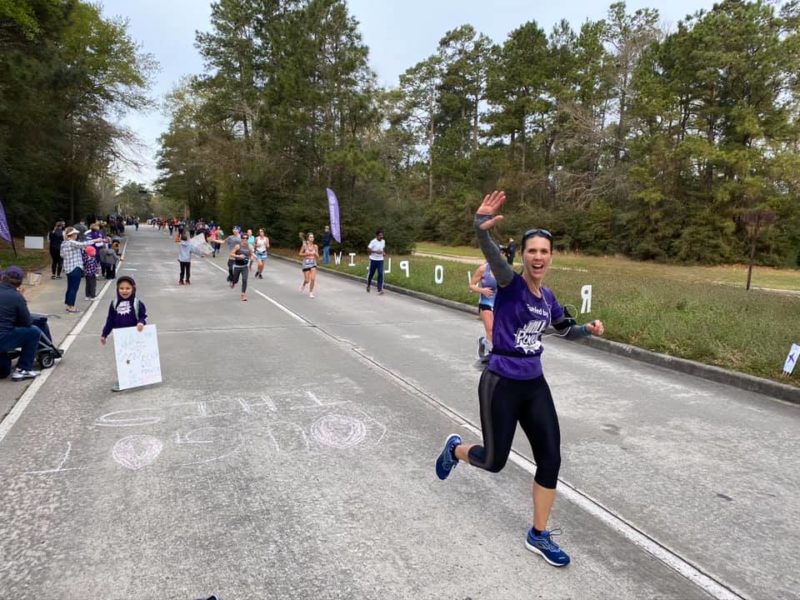 Why do the Byers do this and many other fundraising events each year? Valerie explained in a recent Facebook post on the anniversary of the day Will was diagnosed. 
Five years. We've now known for 5 years that our son has a terminal condition. That he's dying. Will is 9 years and 8 months old. We officially have more memories of life with Sanfilippo than of life without it. And that, frankly, sucks. A lot.
We've been through a lot in that five years. We've rejoiced at being included in a clinical trial. We broke anew when that clinical trial was cancelled. We thrilled at the experiences of a Make-A-Wish trip while simultaneously crying over the fact of why we qualified for it. We were terrified as a sudden and unexpected bout of pneumonia nearly collapsed our son's lung and then marveled as he mustered the strength to heal. We've been strengthened by meeting and connecting with other families only to fall to our knees in tears when their children pass. We've screamed and sobbed at old videos where we can hear our child's voice speaking words and sentences and paragraphs clearly and meaningfully while we currently desperately grab on to any and all utterances he now makes; every beautiful syllable and sound. We grieve for all the dreams we gave up for him, for our family, for our future…but we then find what he can do, what we can do together, and we make new dreams and focus on the miracles that happen in the now and don't worry about what is to come.
We persevere.
And that's why we run, why we fundraise. But it's something we CAN do. Will loves to run and is still capable of running. Ok, how can we use the activity he is able to do and enjoys to do in order to make a difference? We can use it to raise awareness, to raise funds, to push research, to build Will's legacy. Since Will's diagnosis, we have often been asked WHY we fundraise. During his time in the enzyme replacement clinical trial, we would be asked, "Why do you need to fundraise if he's getting treatment?" The answer was a multitude of reasons: because even if the drug works, there's still a million expensive steps to get it to market; because rare disease gets no funding to expand on this trial; because this trial is not a guarantee, it may not work. Because this trial could be cancelled.
And it was.
It was devastating, to be left again to just sit back and watch our son decline with no intervention. After his trial, we were again asked, "Why do you need to fundraise? Do you think something will come in time for Will to benefit from it?" Again, the answer was a multitude of reasons: because rare disease still doesn't get funding or attention; because research takes money and you have to start somewhere to get to clinical trial and a viable treatment; because right now there's NOTHING for him, but what if our fundraising did help create an opportunity for something, anything? Because if we leave the status quo as it is, then nothing changes. Because if we want change, we have to work to create it. Because if we do nothing, then there is nothing. Because if we do something, then maybe there's a chance, however slight. We're just working for a CHANCE.
And not just a chance for Will. Here's the thing. Most children with Sanfilippo Syndrome? They look like each other. Medically speaking, they have a specific facial phenotype that is characteristic of the disease. Personally speaking, they look like cousins. They look like our child. We see Will's face in their faces. The face that we love so much is shared by so many. We love them. We love them like our own because in a way they ARE our own. They are our children too. So we fundraise for them. Because the kids born now, the babies born next week, next month, next year…they deserve a chance just as much as Will does. And if Will and our family can help give them that chance, then we're going to do it.
So that's why we run these crazy races and ask for your support each year. Because we love hearing Will's name called as he crosses the finish line because it means he's still here.
He's still running.
He still has a chance.
So we continue to do our part to help create that chance, for him and for all of the faces in which we see his smile reflected. Thank you for standing next to us, shoulder to shoulder, as we work towards making these dreams realities for our children
We love you, Little Buddy. We'll never give up.